By Vicki Louk Balint | March 13, 2018
The NAEYC 2018 Public Policy Forum was held from March 4-6 in Washington, DC. Team Arizona gathered with colleagues from across the country to advance federal and state early childhood policy.
The 2018 Public Policy Forum included sessions on electoral advocacy, expert policy briefings, guest speakers, and interactive breakout sessions. Representatives from state team members gathered in Arlington, Va., just a short Metro ride from the United States Capitol.
Team Arizona Members
Ben Alteneder, Arizona Team Leader
AzAEYC Vice President of Policy and Advocacy
Dawn Wilkinson
Melissa Larson Busby
Monica Brinkerhoff
SAzAEYC VP of Public Policy and Awareness
Marilee Dal Pra
Liz Alvarez
First Things First Vice President, Communications and Public Affairs
Mike Sistak
First Things First Senior Director, Government Affairs
Charissa Lucille
Tuesday, March 6, was Hill Day. Participants in the 2018 Public Policy Forum visited congressional offices to build relationships with representatives, senators and/or legislative aides.
Gathering with colleagues from across the country to rally for this shared vision was compelling. We will continue to strengthen our connections from this experience by following up with our representatives in Congress on key issues, including the Child Care Development and Block Grant (CCDBG) funding increase (impacting 4,000 Arizona children); Preschool Development Grants (PDG) flat funding (providing quality preschool to 3,300 kids in high-risk areas); and increased funding for Higher Ed. 
Let's continue the conversation! Here's a photo scrapbook of Team Arizona's experiences on Hill Day.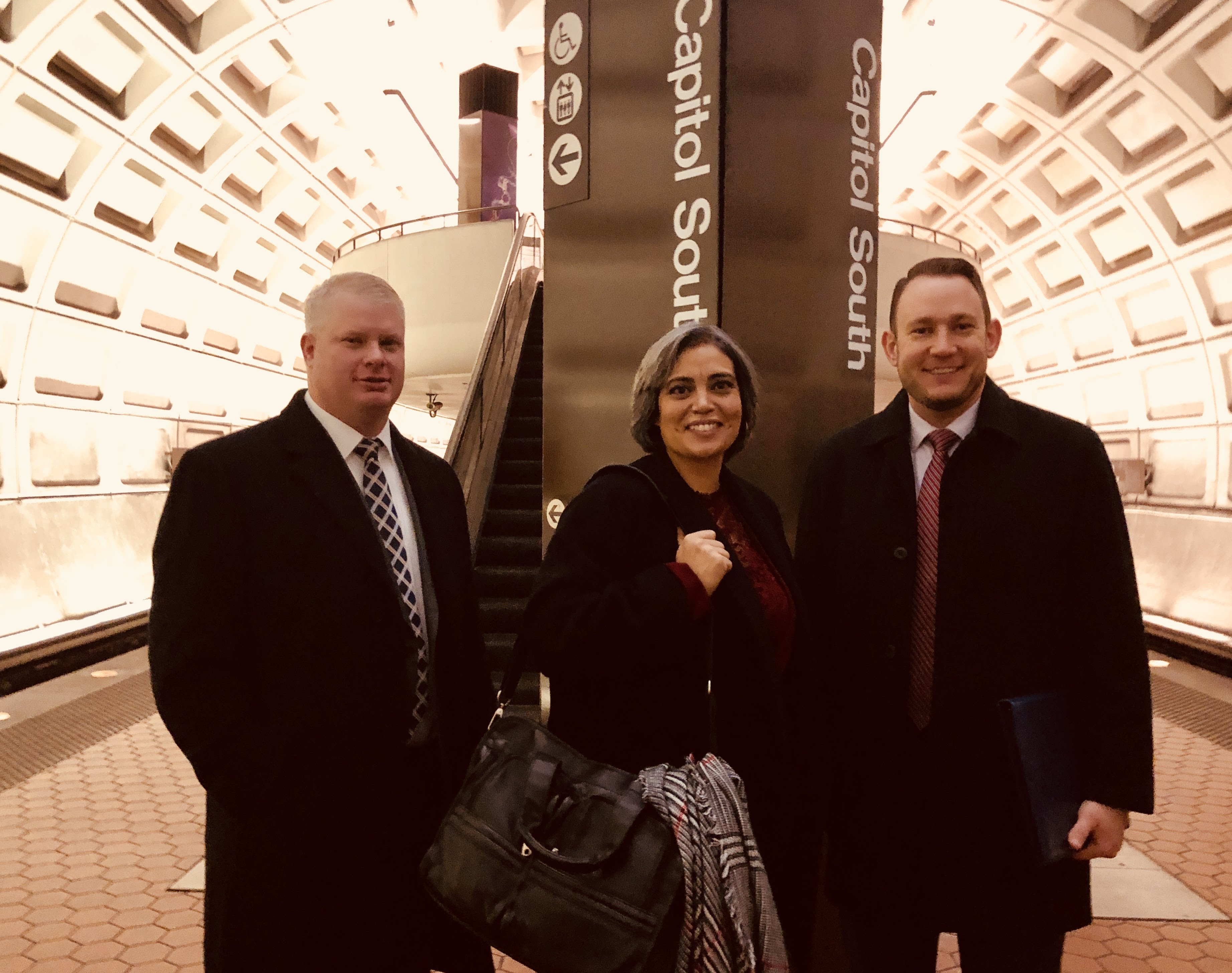 Ben Alteneder, Liz Alvarez, and Mike Sistak at the Capitol South Metro station, ready for Hill day.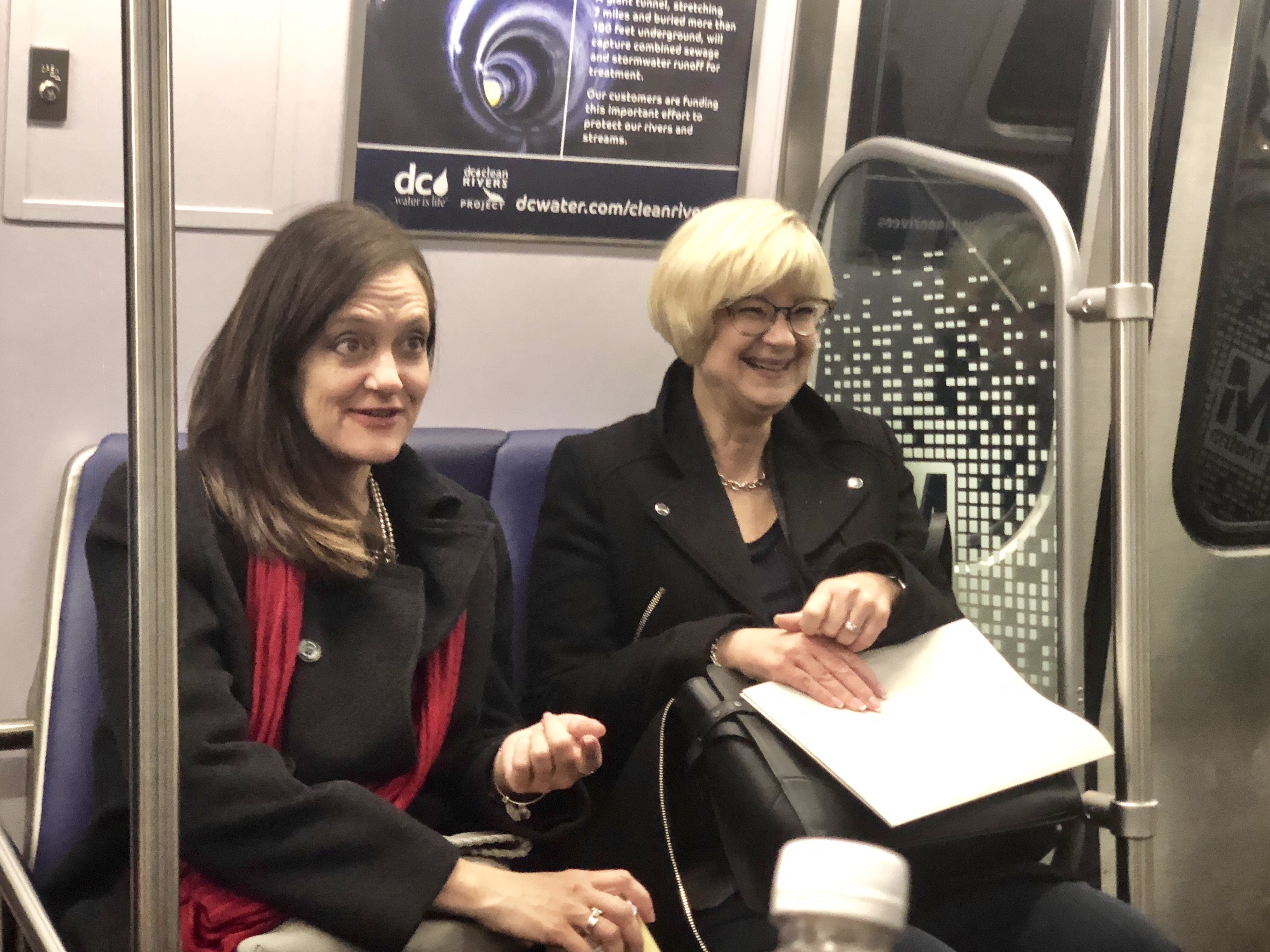 On the Metro, en route to the US Capitol: Melissa Larson Busby and Marilee Dal Pra.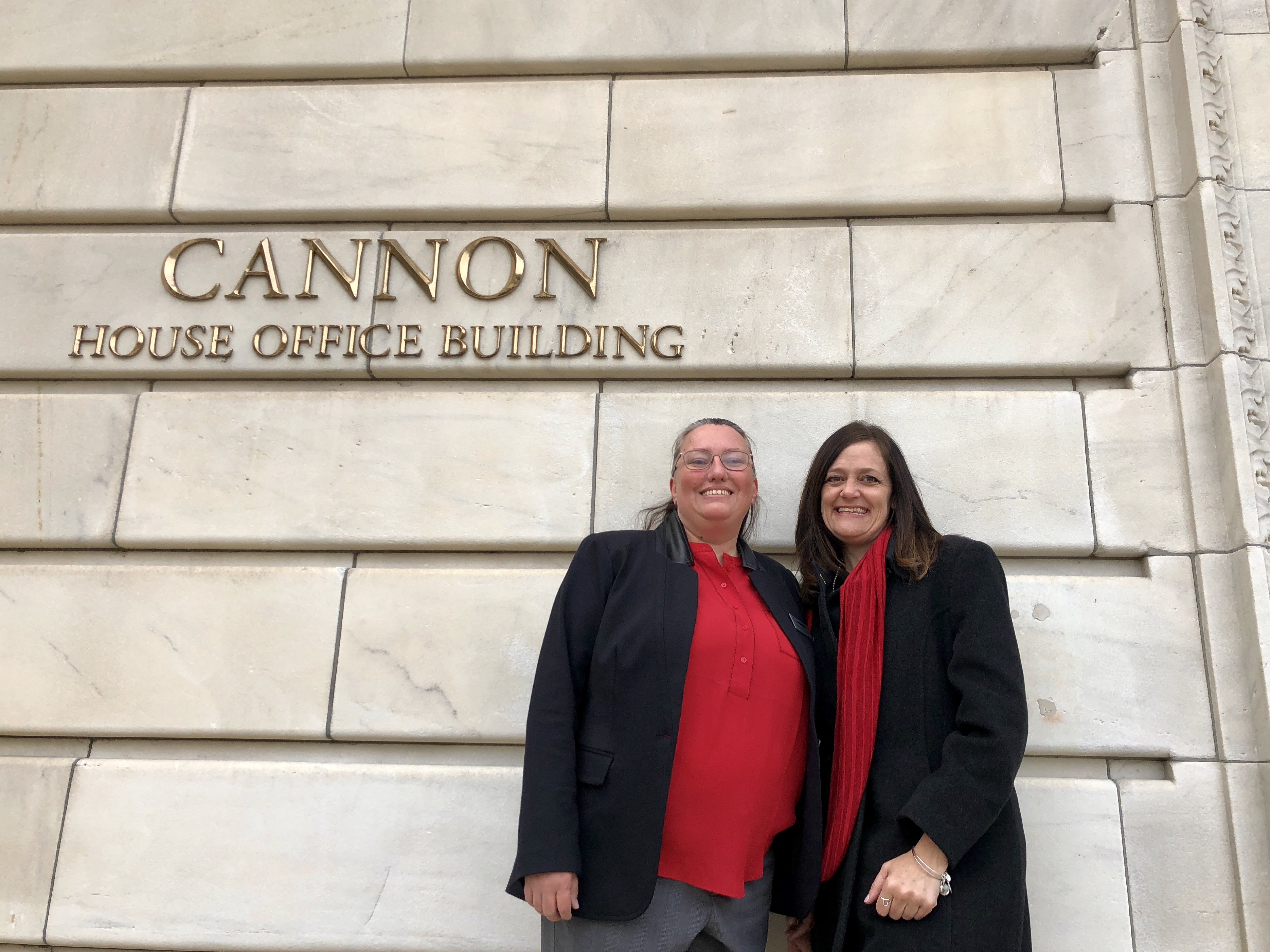 First stop: the Cannon House Office Building. Cannon is the oldest House office building, completed in 1908. Dawn Wilkinson and Melissa Larson Busby at the entrance.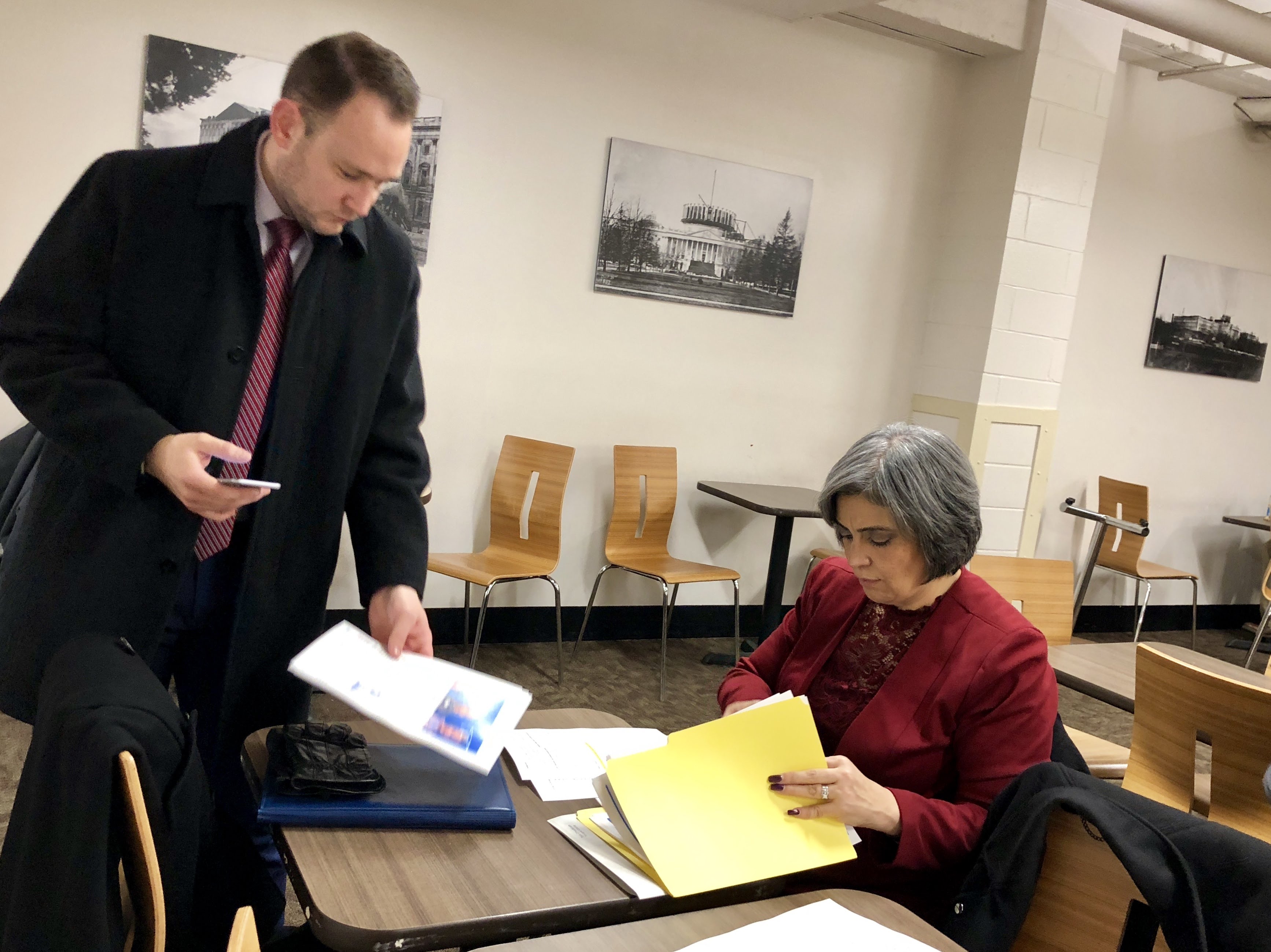 Mike Sistak and Liz Alvarez reviewing information and preparing for the day in a break room/cafeteria within the Cannon building.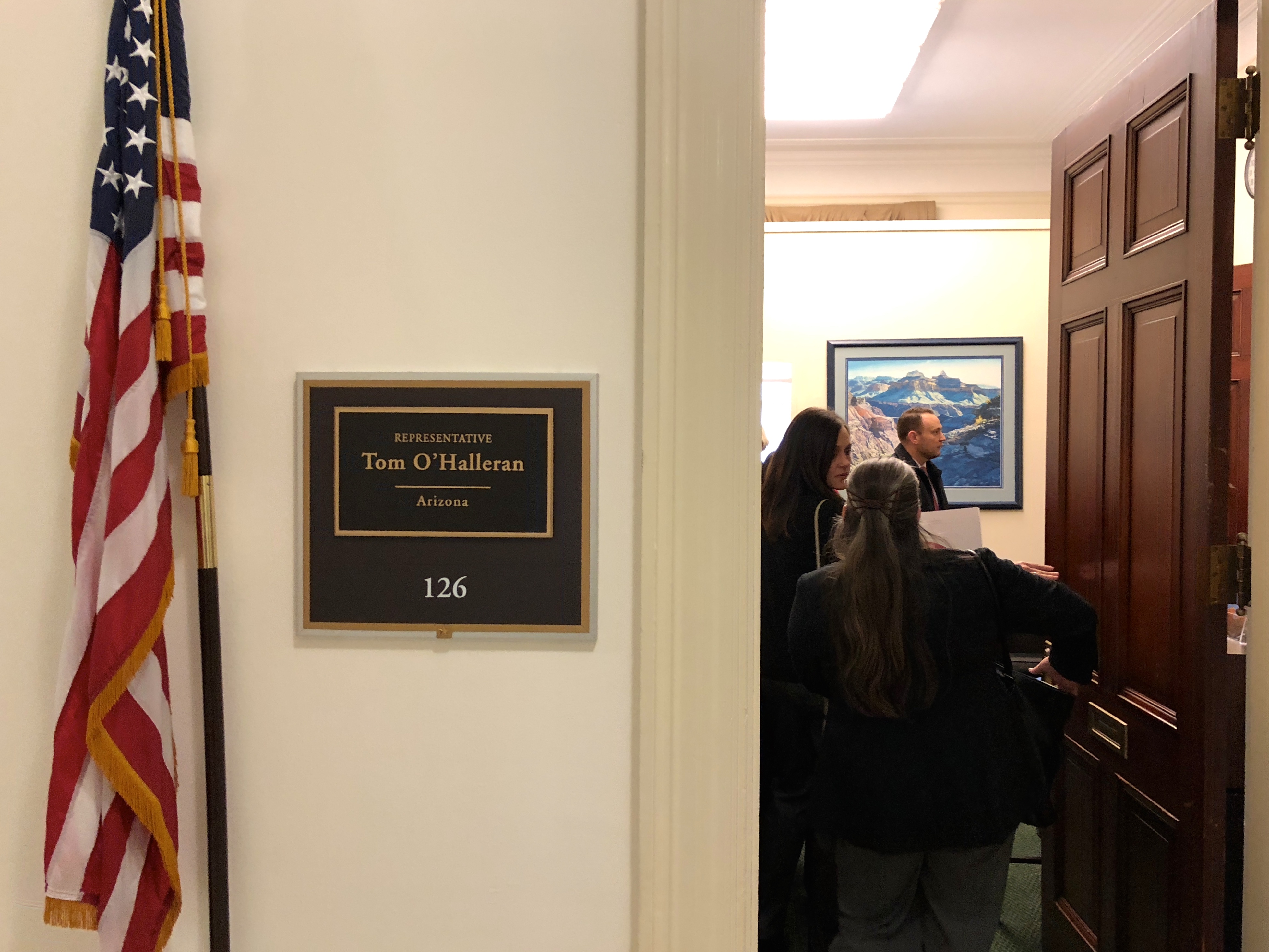 First stop: Congressman Tom O'Halleran's office. Rep. O'Halleran represents District One of Arizona which includes the Navajo Nation, the Hopi reservation and the Gila River Indian Community.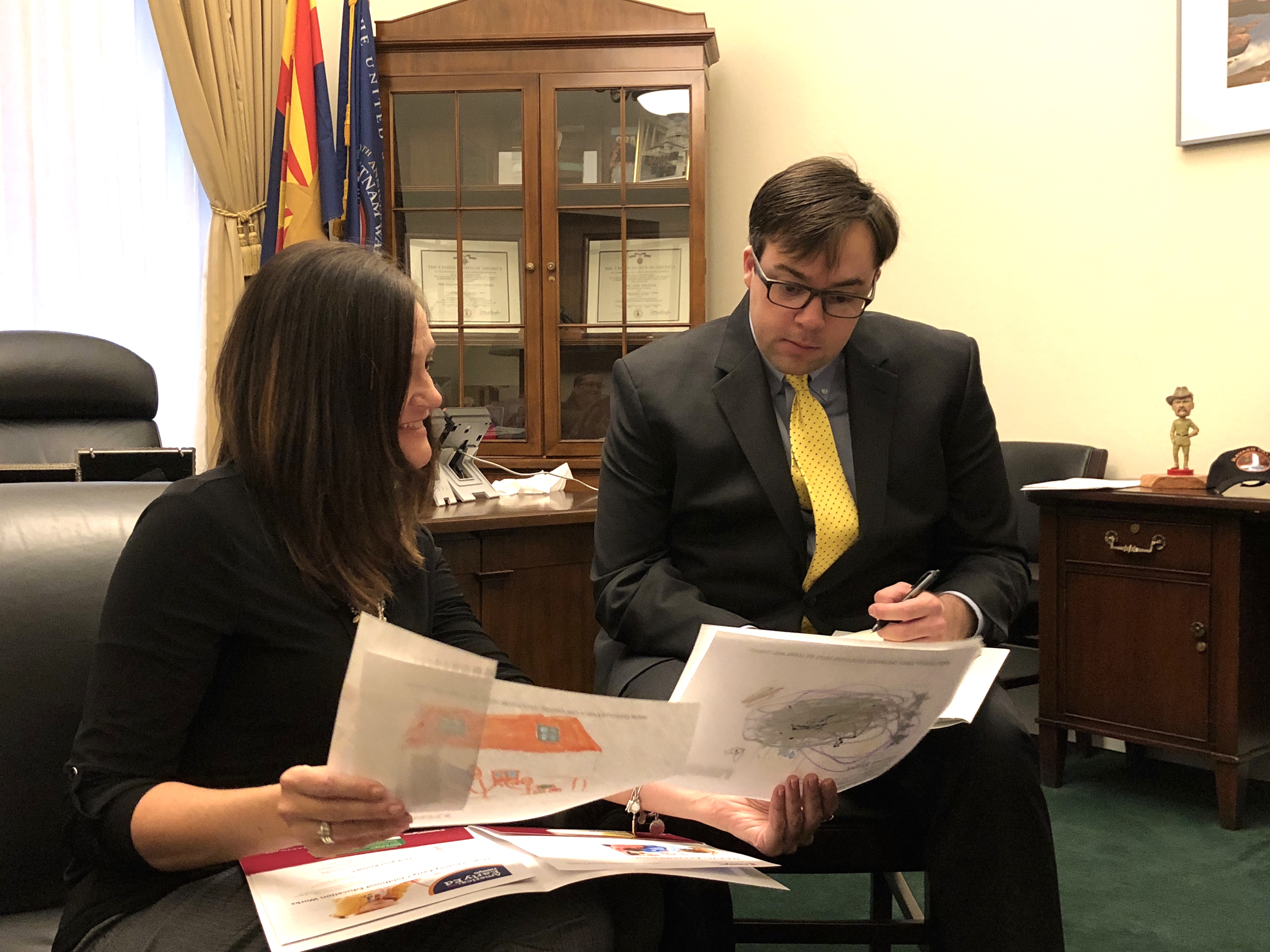 Melissa Larson Busby shares samples of early learning experiences with Paul Babbitt, legislative aide to Rep. O'Halleran.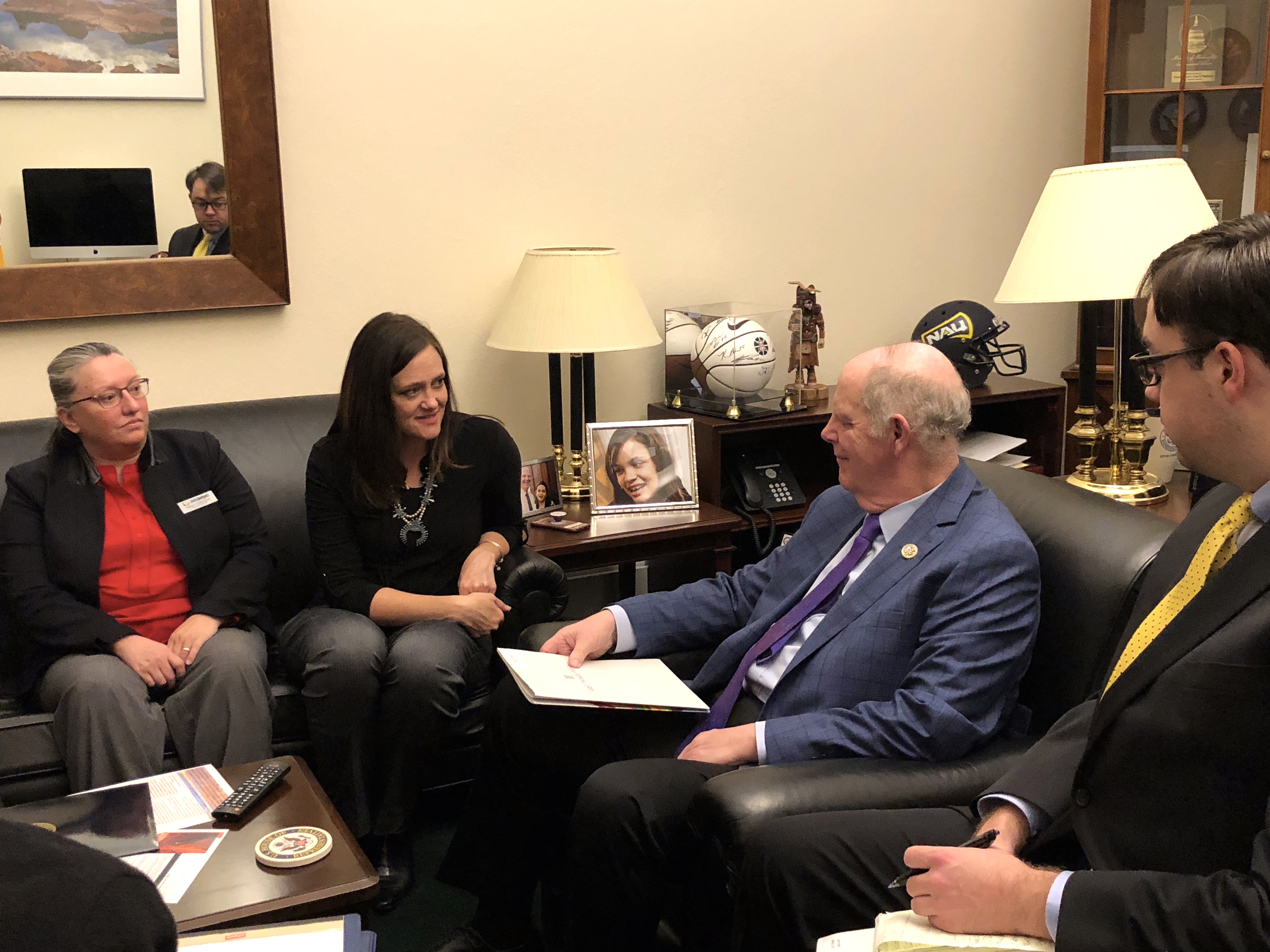 During the conversation with Paul Babbit, Rep. O'Halleran stopped by to meet with Team Arizona. Legislative aides are responsible for meetings with constituents and then relay the information directly to the member of Congress. Team Arizona was happy to have the chance to meet Rep. O'Halleran face-to-face.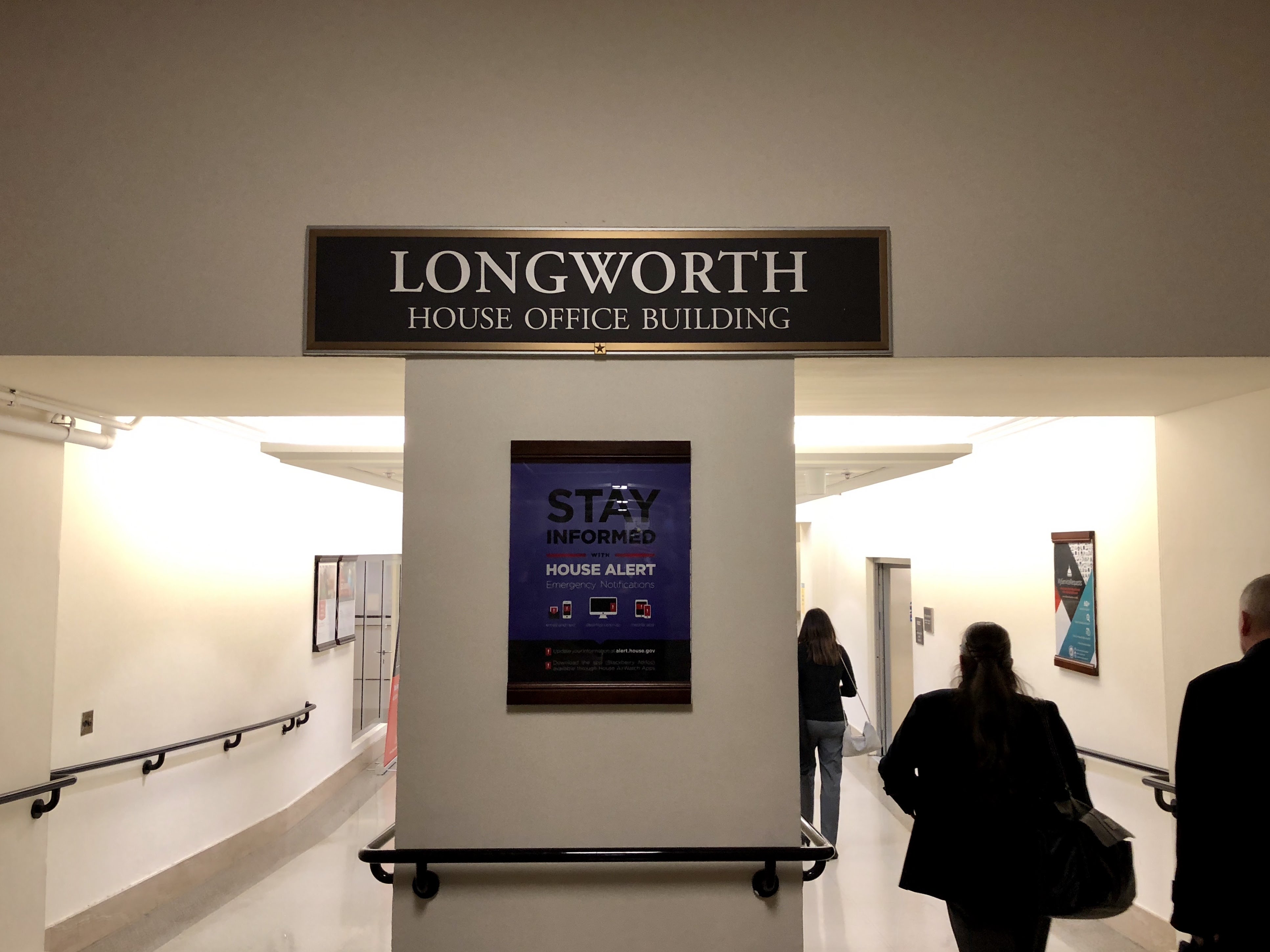 Next, we headed toward the Longworth House Office Building. Built in 1933, Longworth is the second of three buildings constructed for the U.S. House of Representatives. The third is the Rayburn House Office building, completed in 1965.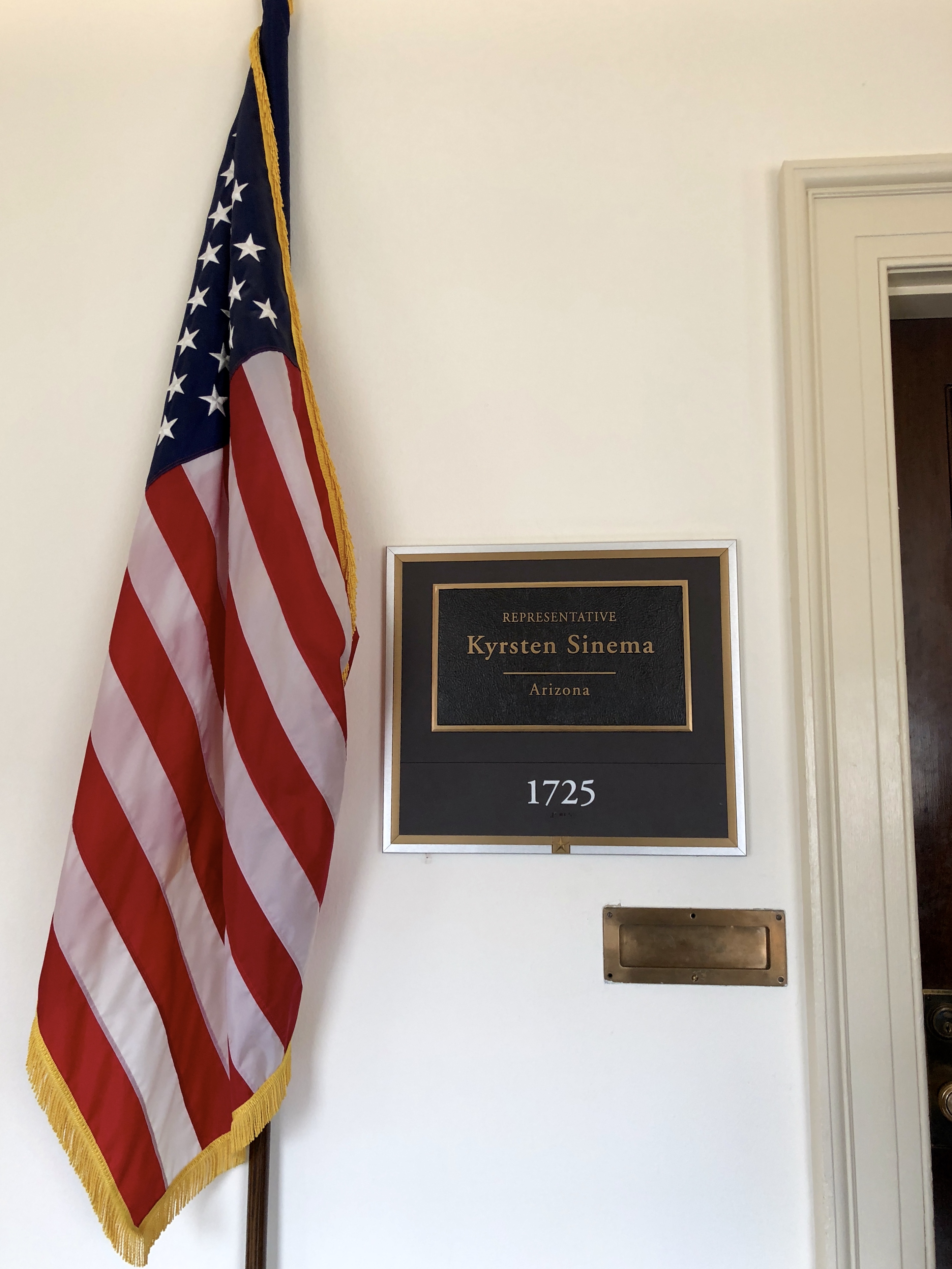 Team Arizona headed for Representative Krysten Sinema's office. Rep. Sinema represents the 9th Congressional District, located entirely within Maricopa County.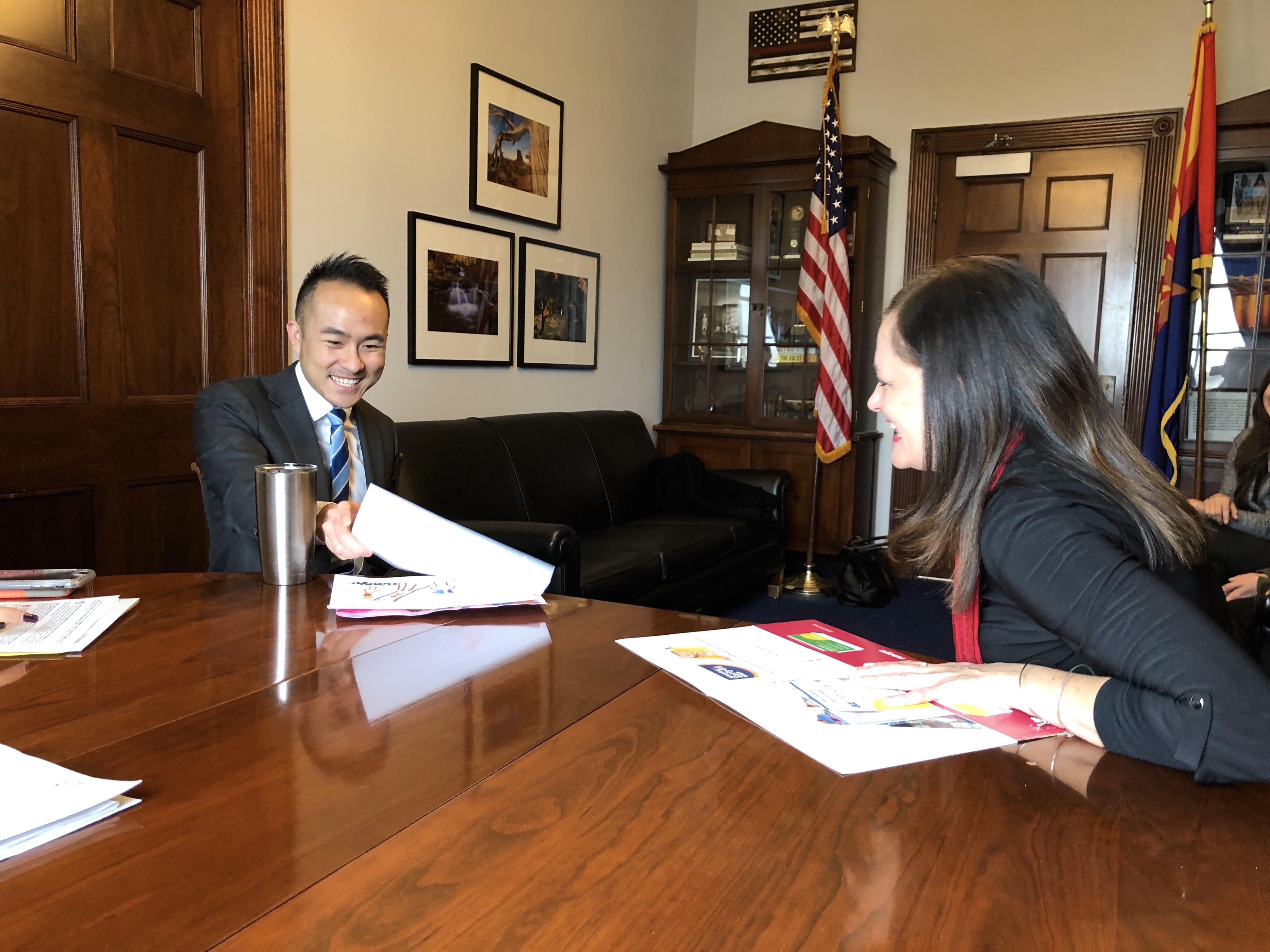 Meeting with Michael Wong, Rep. Sinema's legislative aide.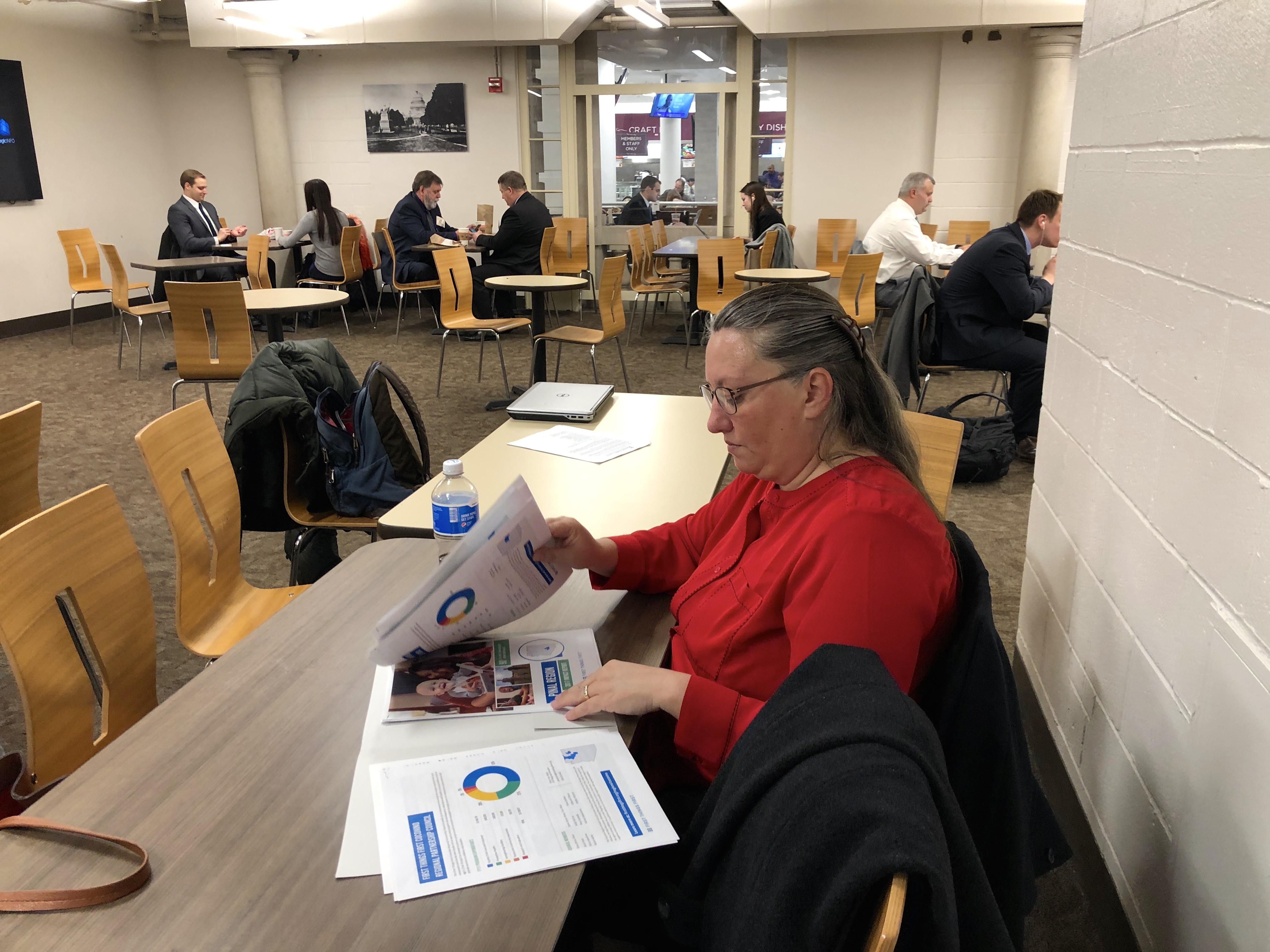 In the cafeteria/break area, Dawn Wilkinson reviews information from the AzAEYC/First Things First packets of pertinent materials.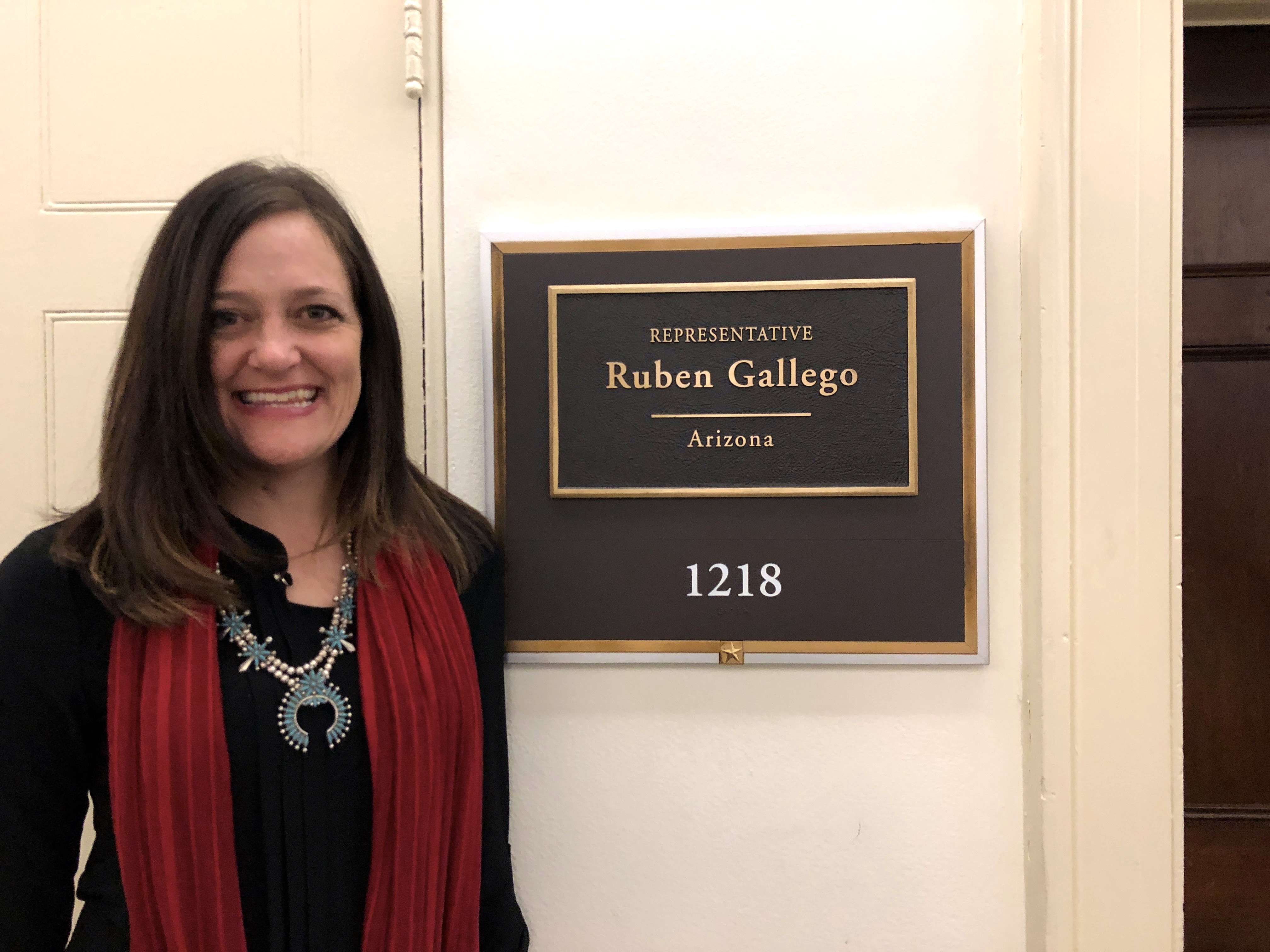 Our next stop was Rep. Ruben Gallego's office. Rep. Gallego represents Arizona's 7th District, including parts of Phoenix and the eastern area of Glendale.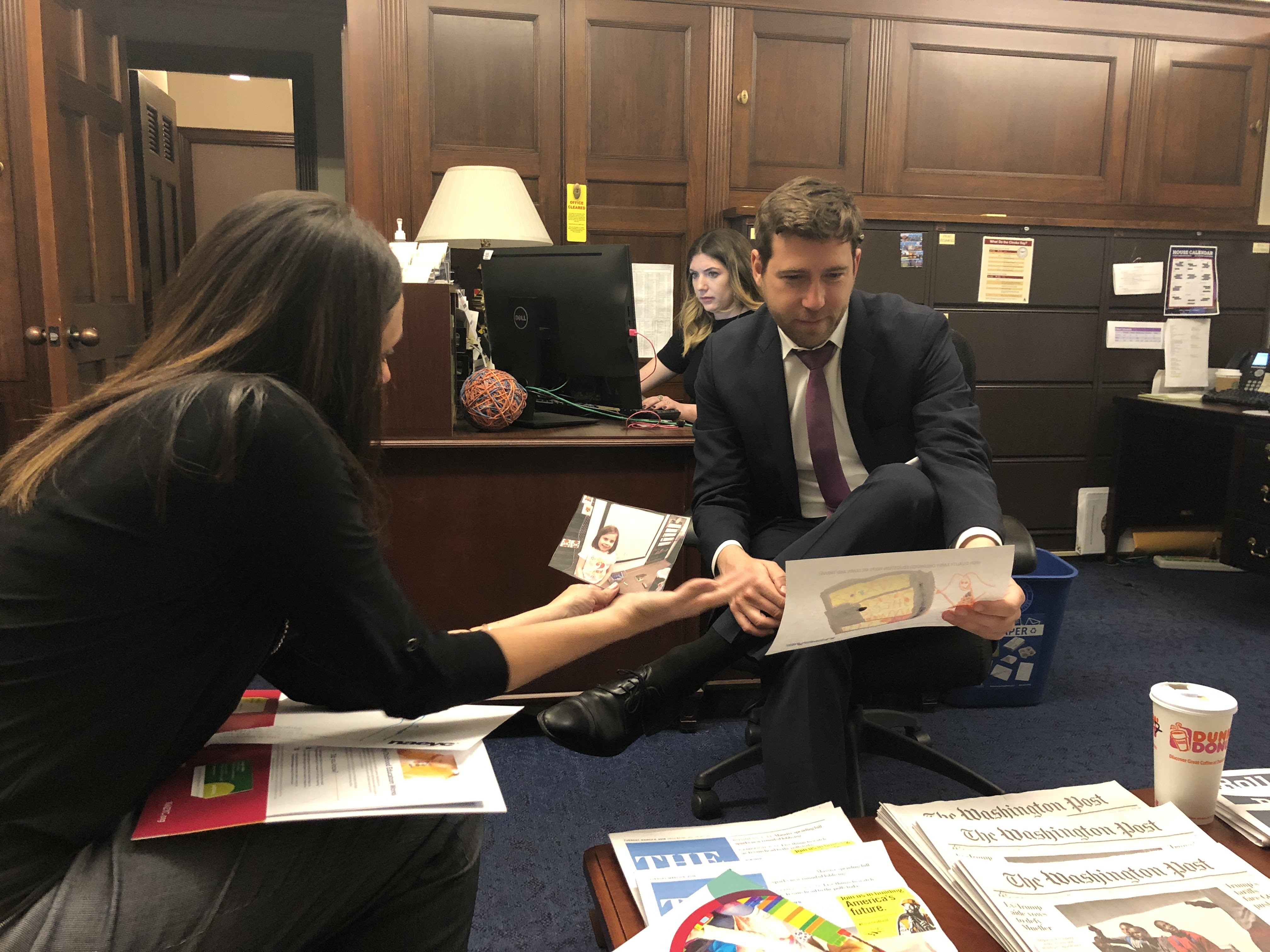 Talking with Matt Lee, legislative aide for Ruben Gallego. Some of the samples of children's art showing development growth included photos of the artist.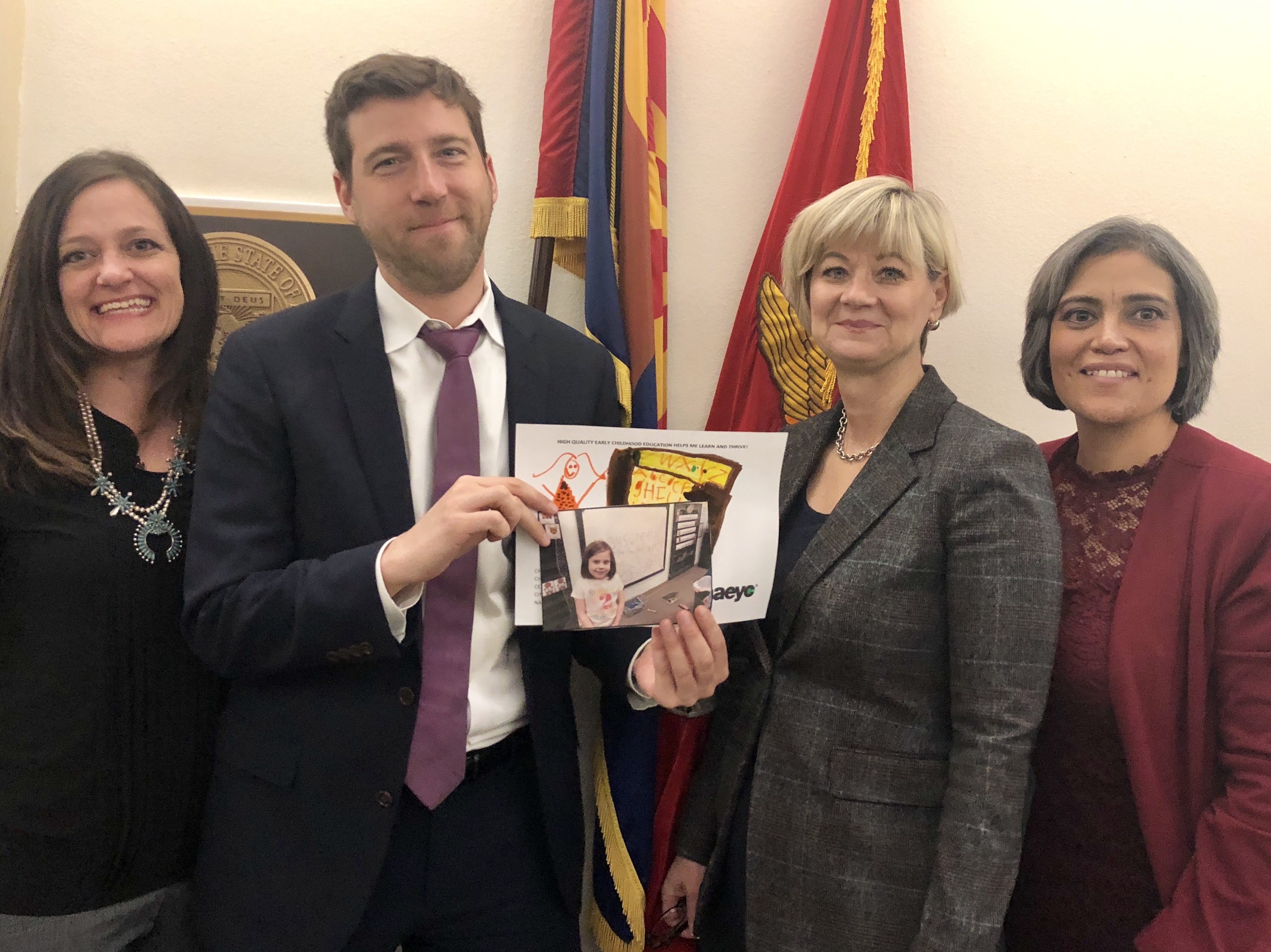 Melissa Larson Busby, Marilee Dal Pra, and Liz Alvarez with Matt Lee. "No constituent has ever brought photos of children and their work to us before," he said. "This is great."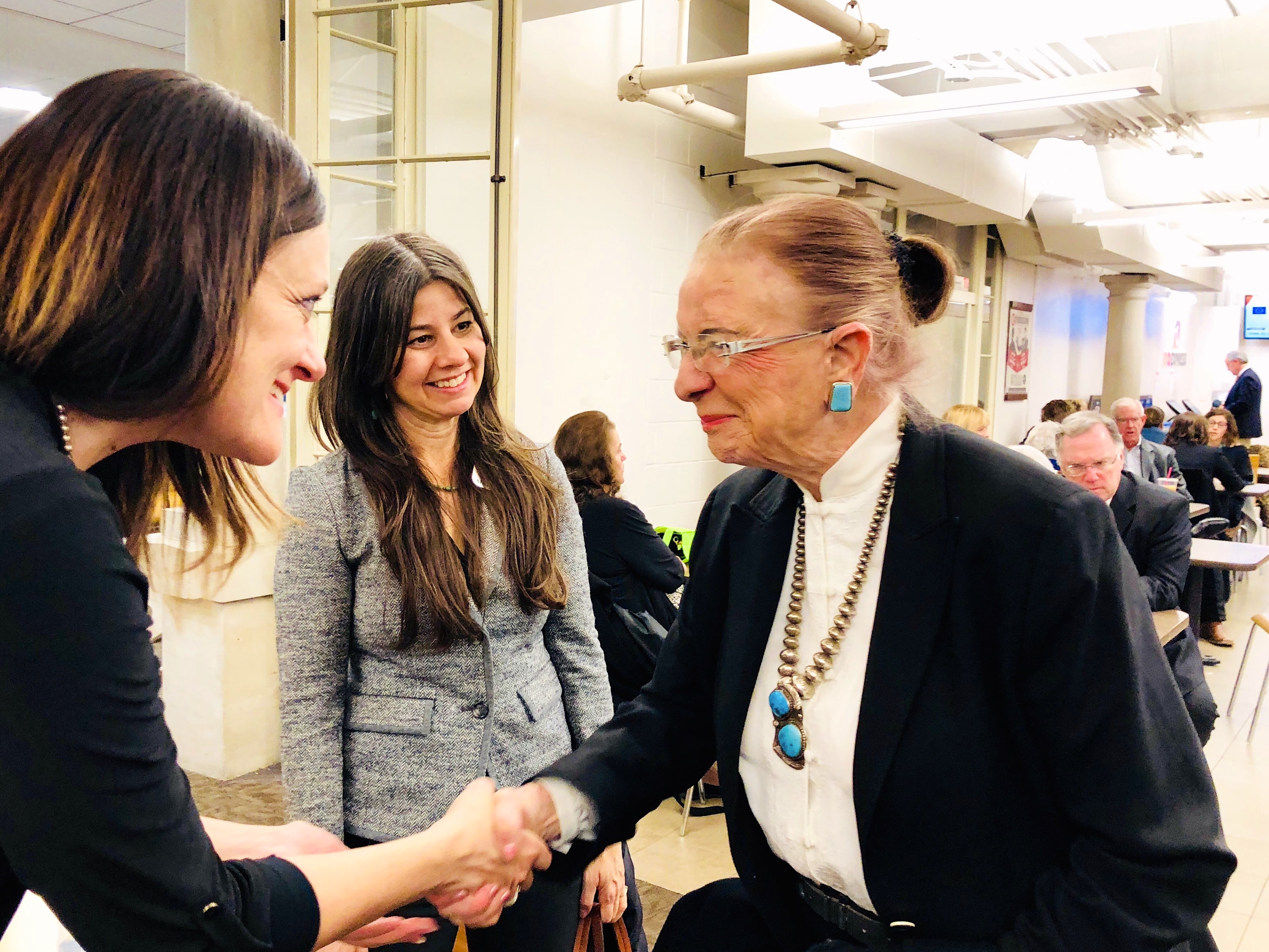 During a lunch break, some Team Arizona members ran into Arizona political icon Carolyn Warner, State Superintendent of Public Instruction from 1975 to 1987. She remains active in politics and presently runs an education consulting firm. Left to right: Melissa Larson Busby, Monica Brinkerhoff, Carolyn Warner.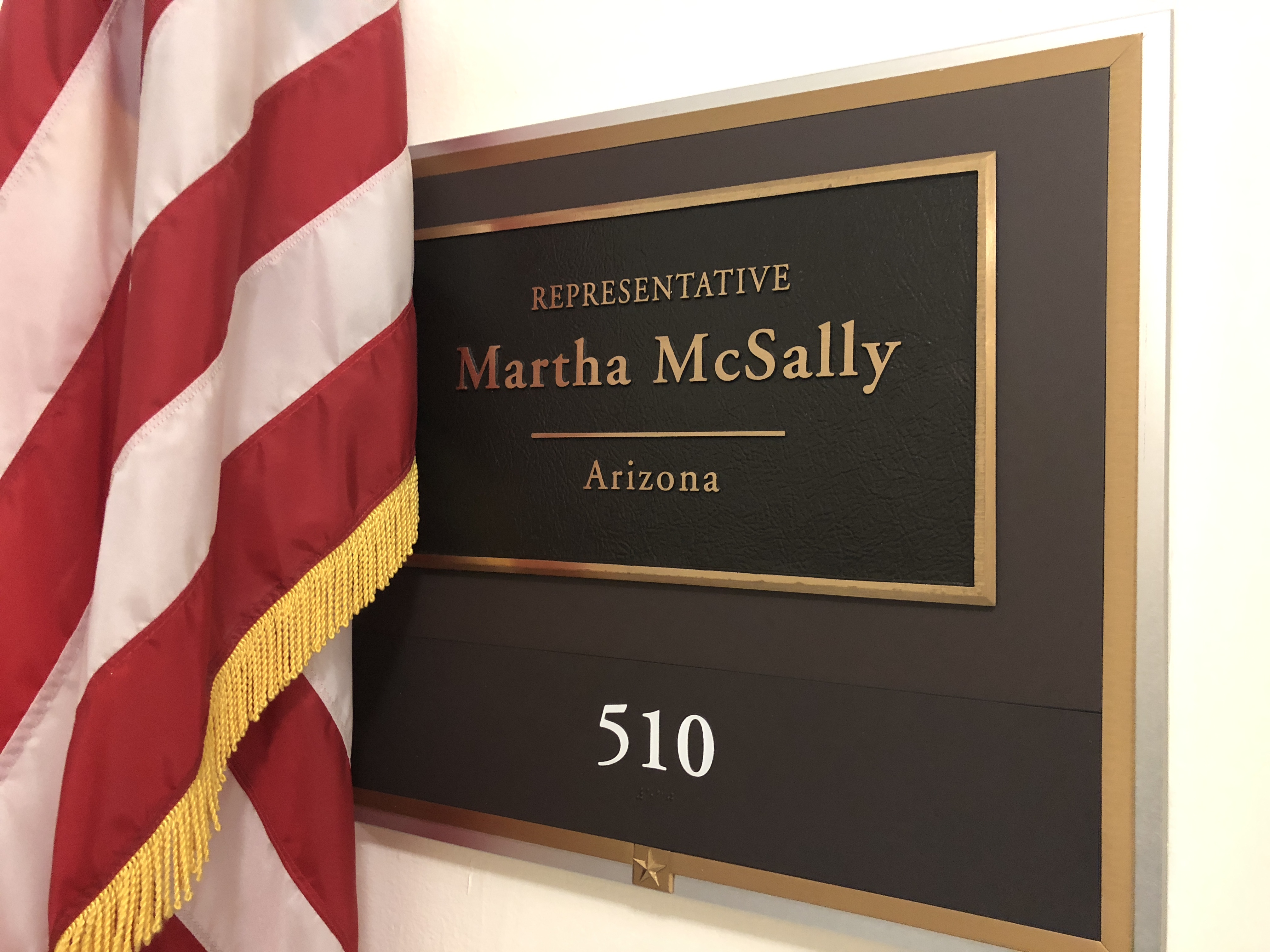 We headed back to the Cannon building to Rep. Martha McSally's office. Rep. McSally represents Arizona's 2nd District, including around two thirds of Tucson and the southeastern corner of the state.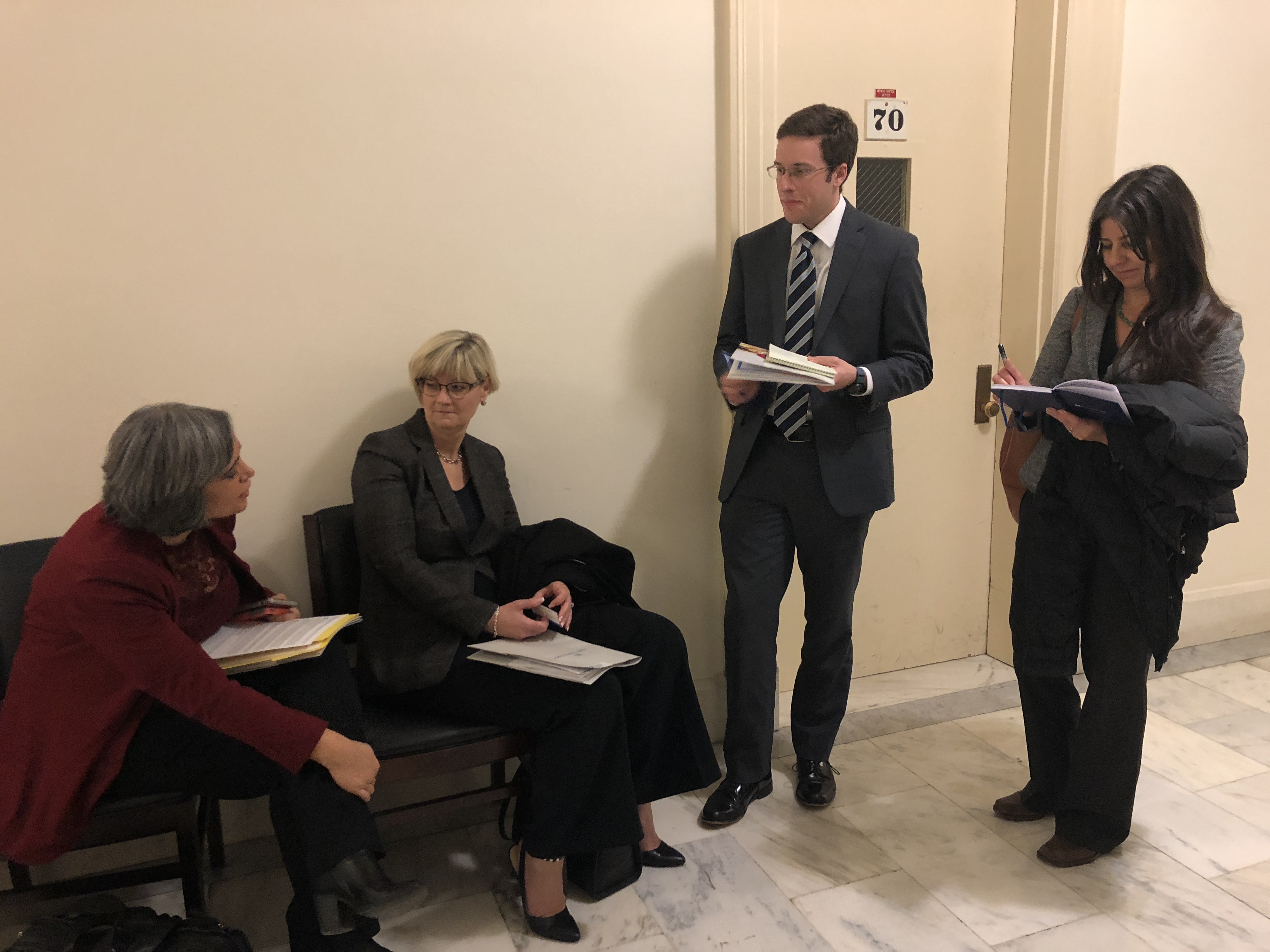 Meeting with Bryan McVae, legislative aide for Rep. Martha McSally.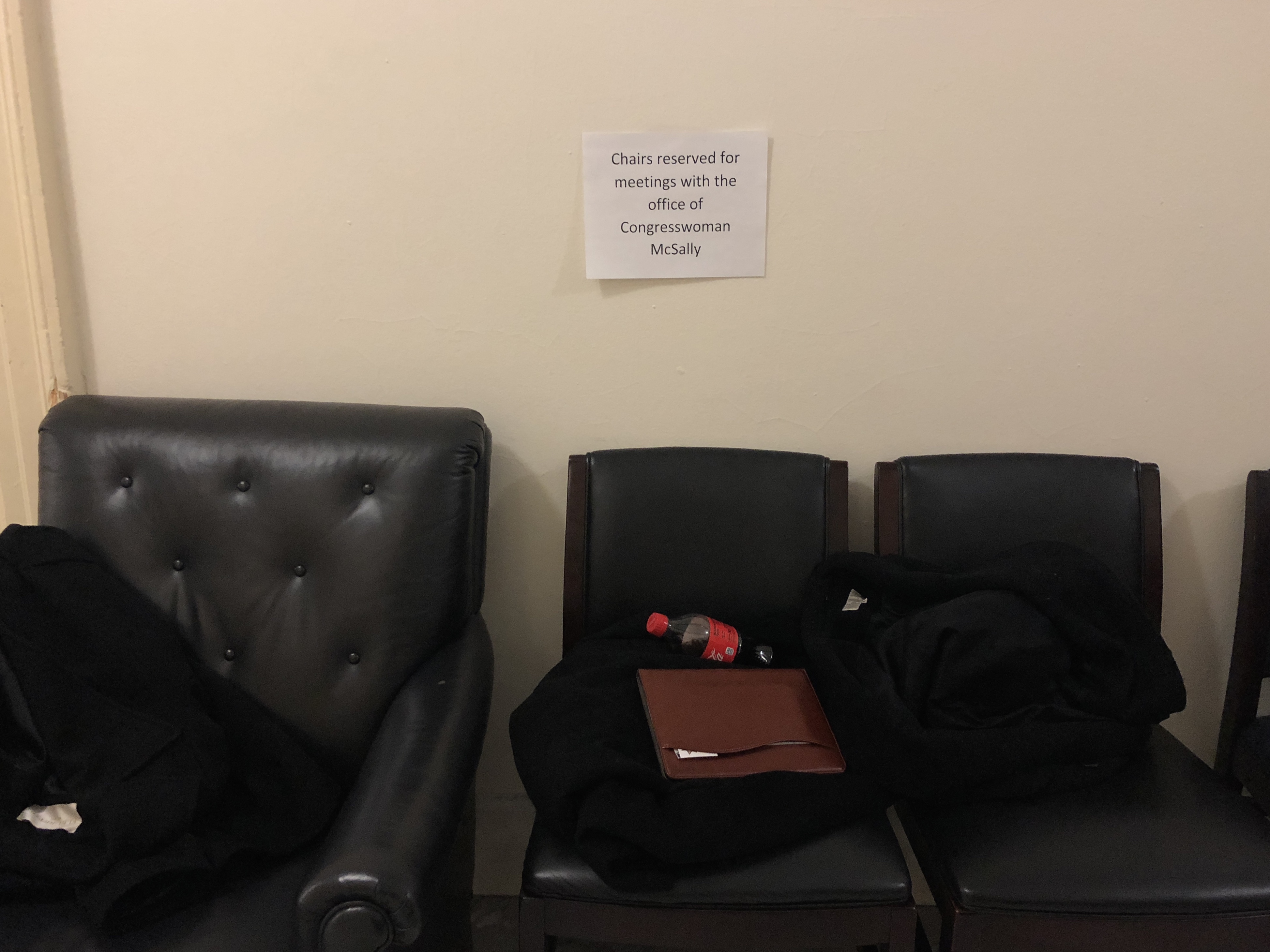 Each congressional office varies in size, decor, and set up. We met in several types of locations at conference rooms and office suites and even in a hallway.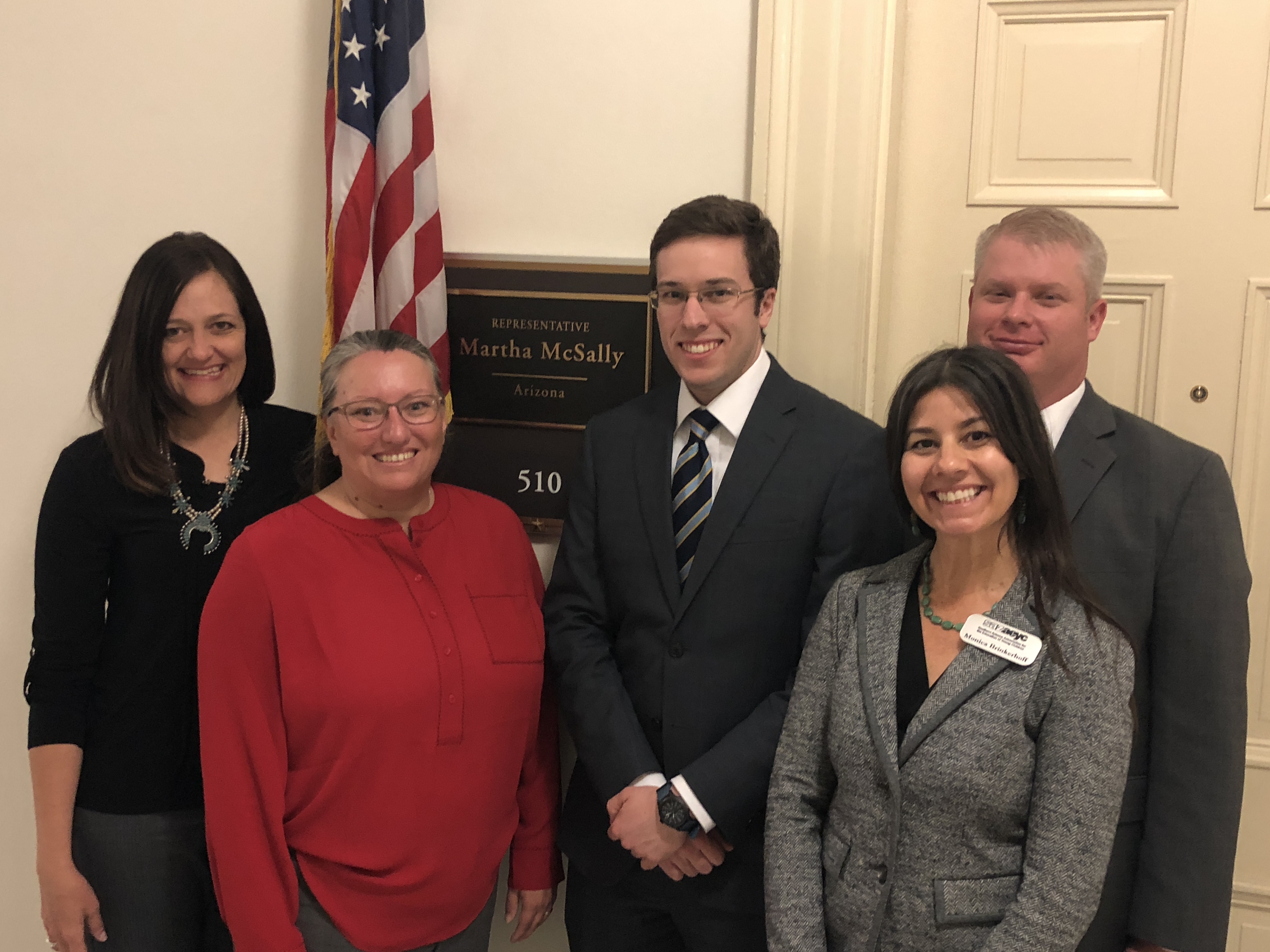 Each legislative aide listened to the information we presented, took notes, and asked questions. We were grateful for the interest shown by each and every one.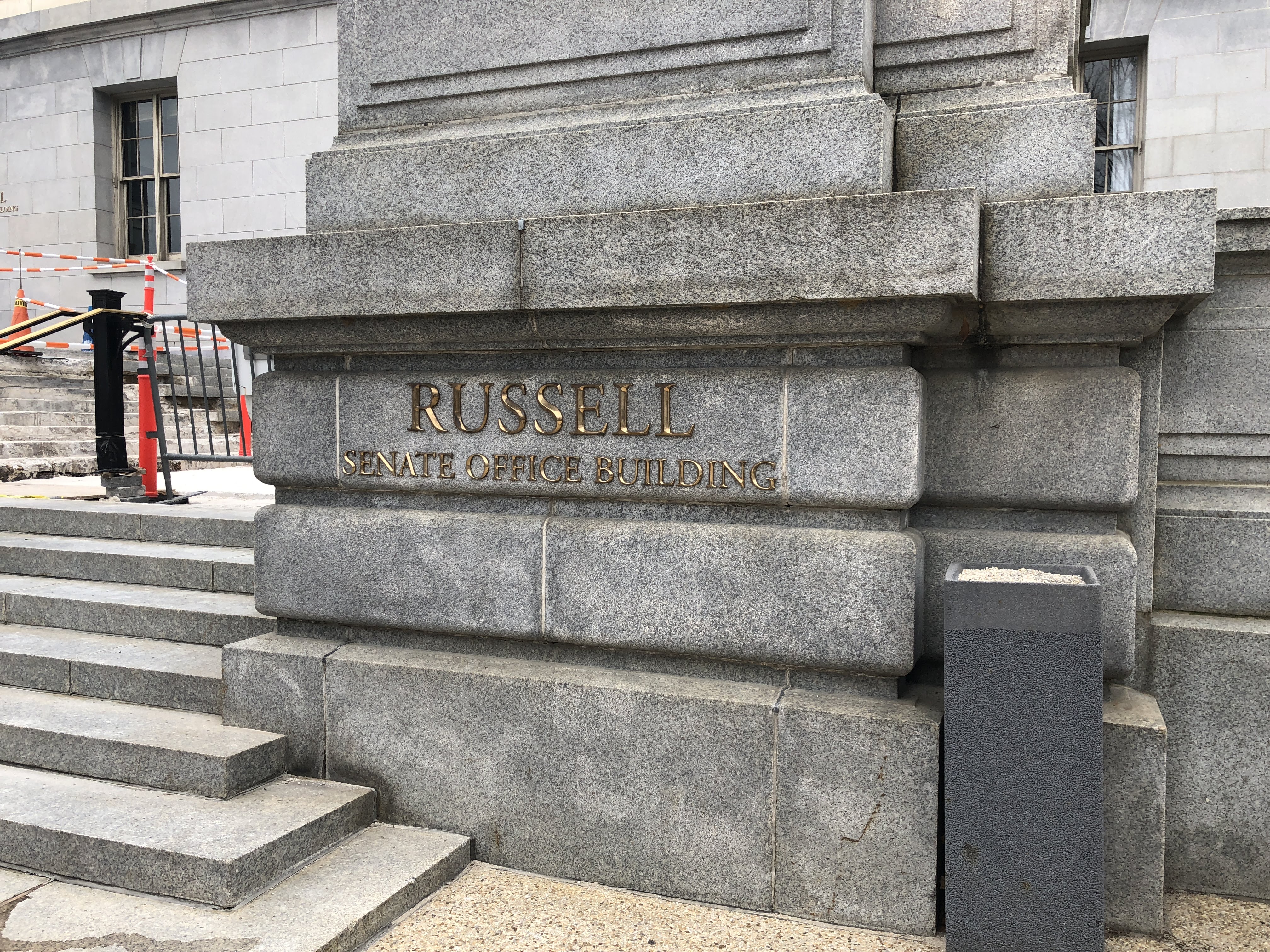 We walked outside and across the U.S. Capitol grounds to the Russell Senate Office building. Opened in 1909, it is the oldest of the United States Senate office buildings.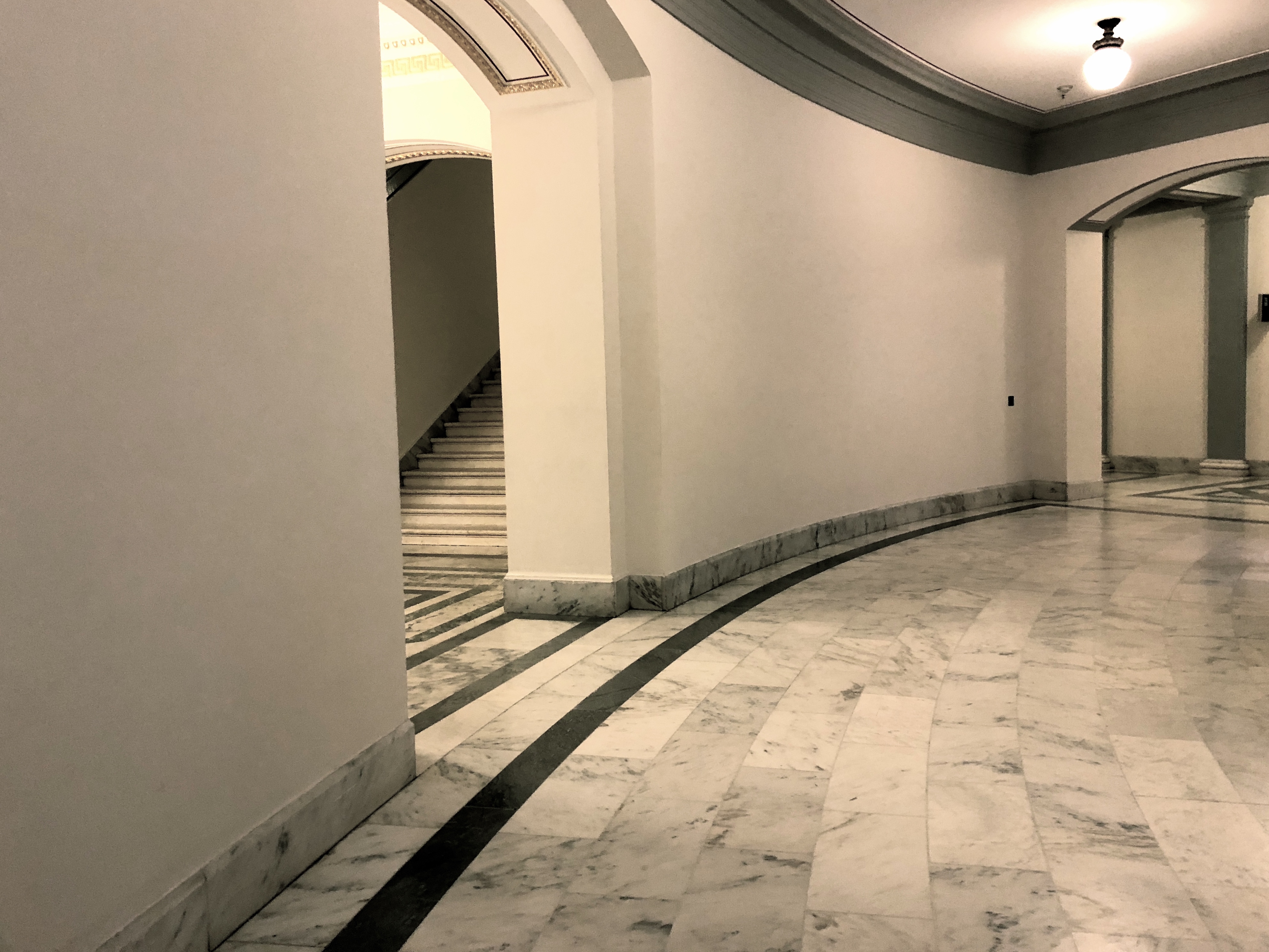 The halls of Congress are a stunning combination marble, limestone and granite. Built to be fireproof and planned with forced-air for cooling, hot and cold running water, telephones, and electricity, the Russell building was considered modern for the time.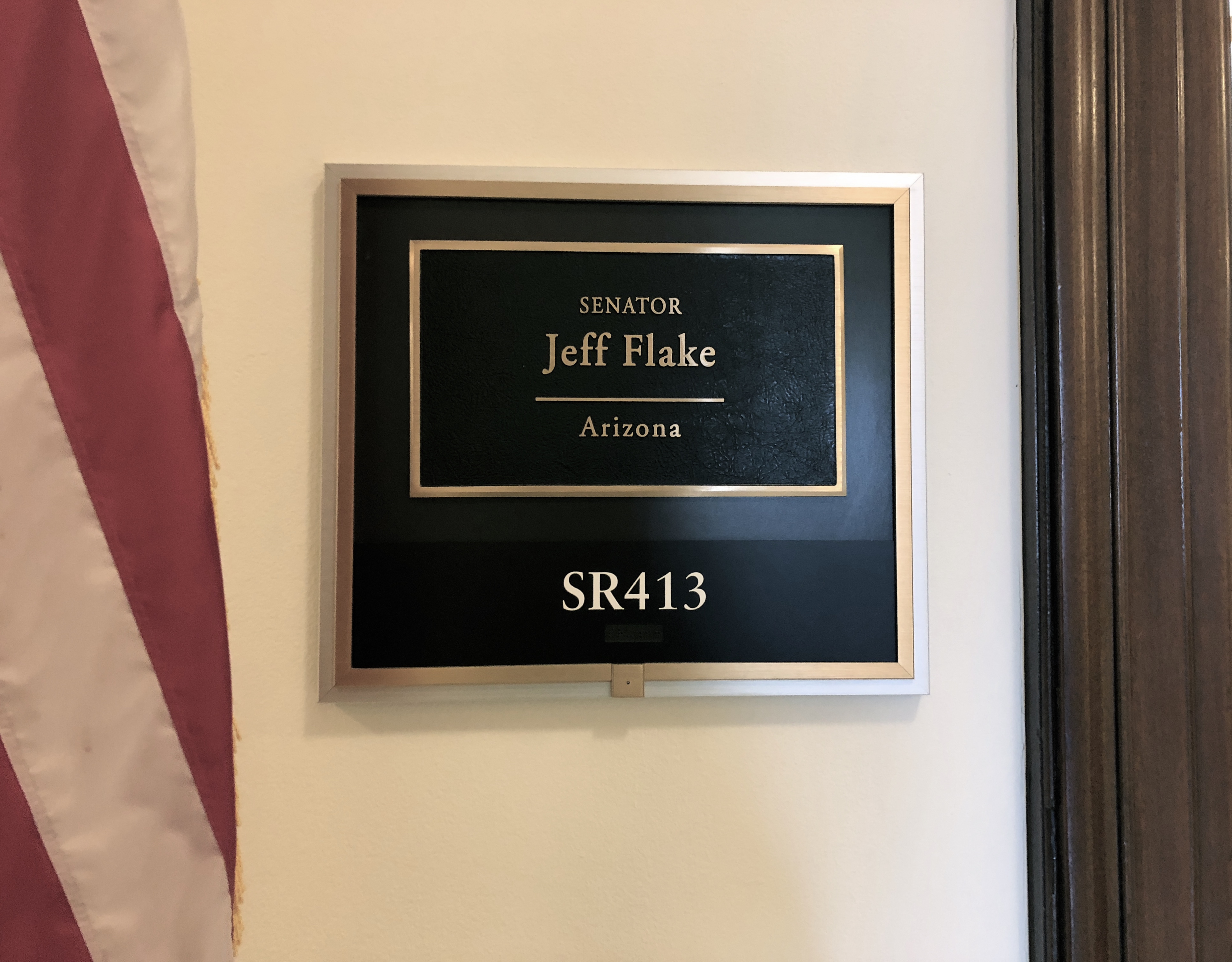 The last meeting scheduled for the day was at Senator Jeff Flake's office, who has served in the Senate since 2013. Senator Flake was a member of the United States House of Representatives from 2001 to 2013, representing Arizona's 6th congressional district. He has decided not to seek re-election in 2018.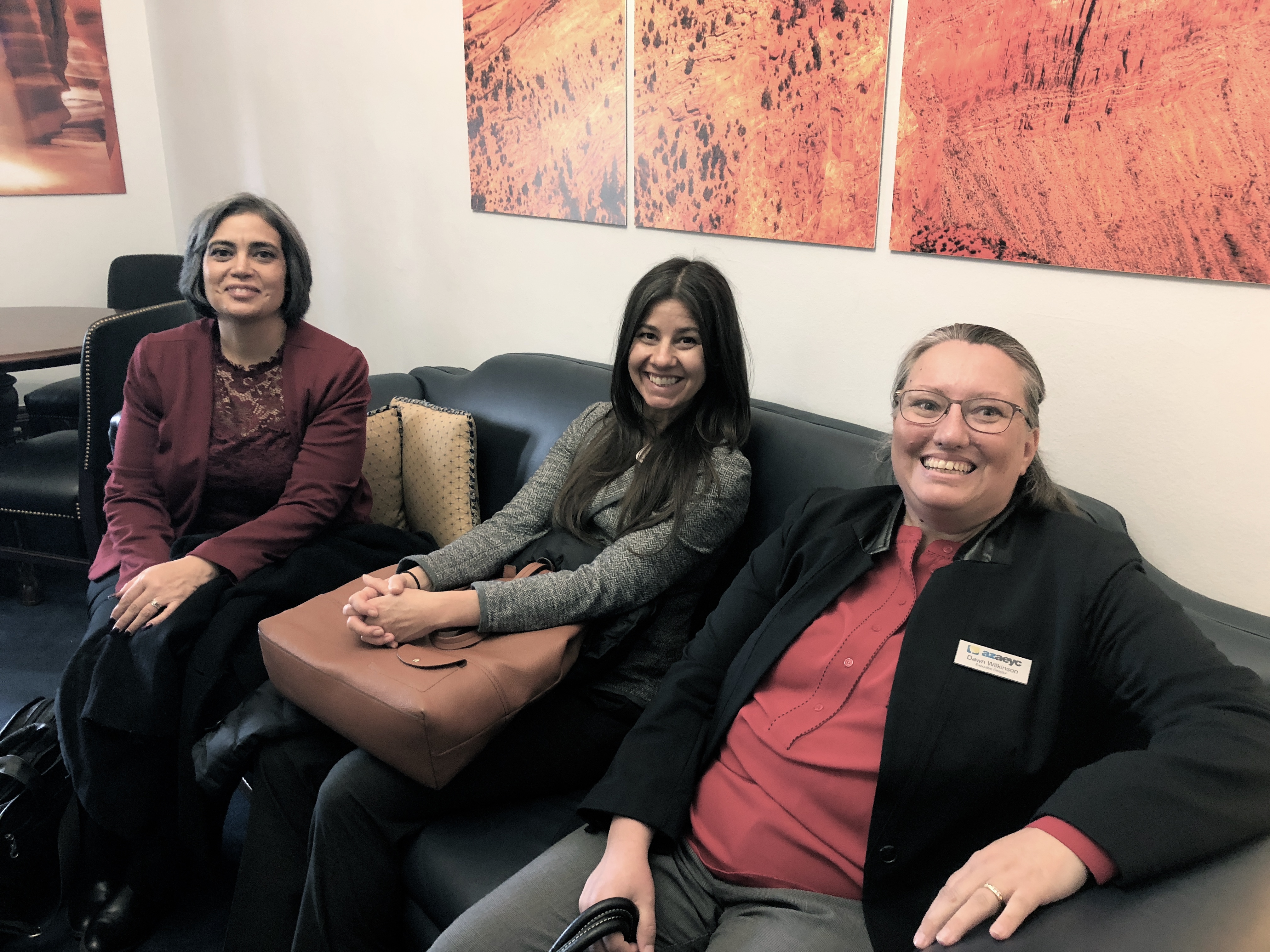 Waiting in the lobby of Senator Flake's office. Picturesque scenes of Arizona's natural beauty filled the walls of his offices.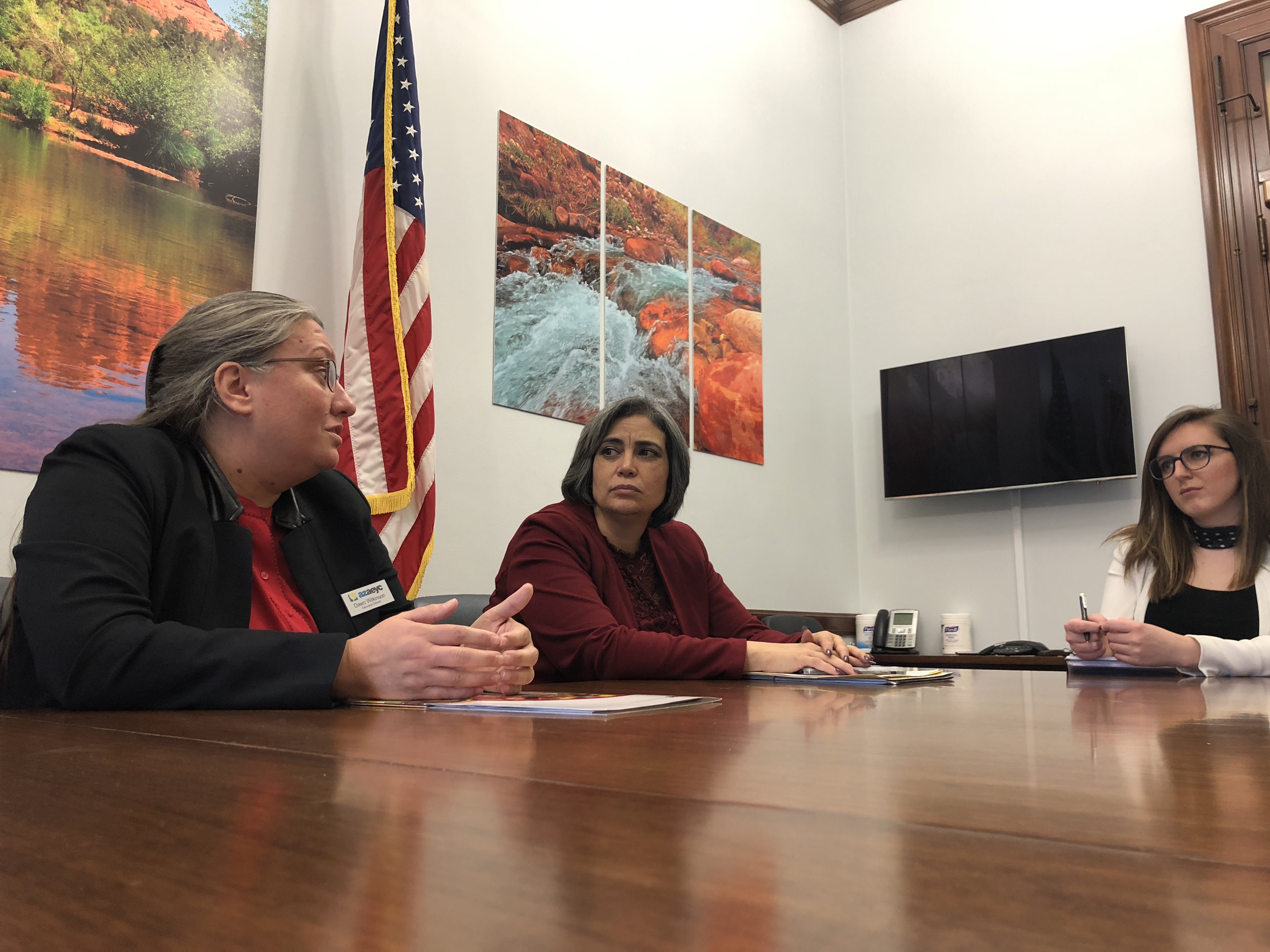 We met with Flaka Ismaili, legislative aide for Senator Flake.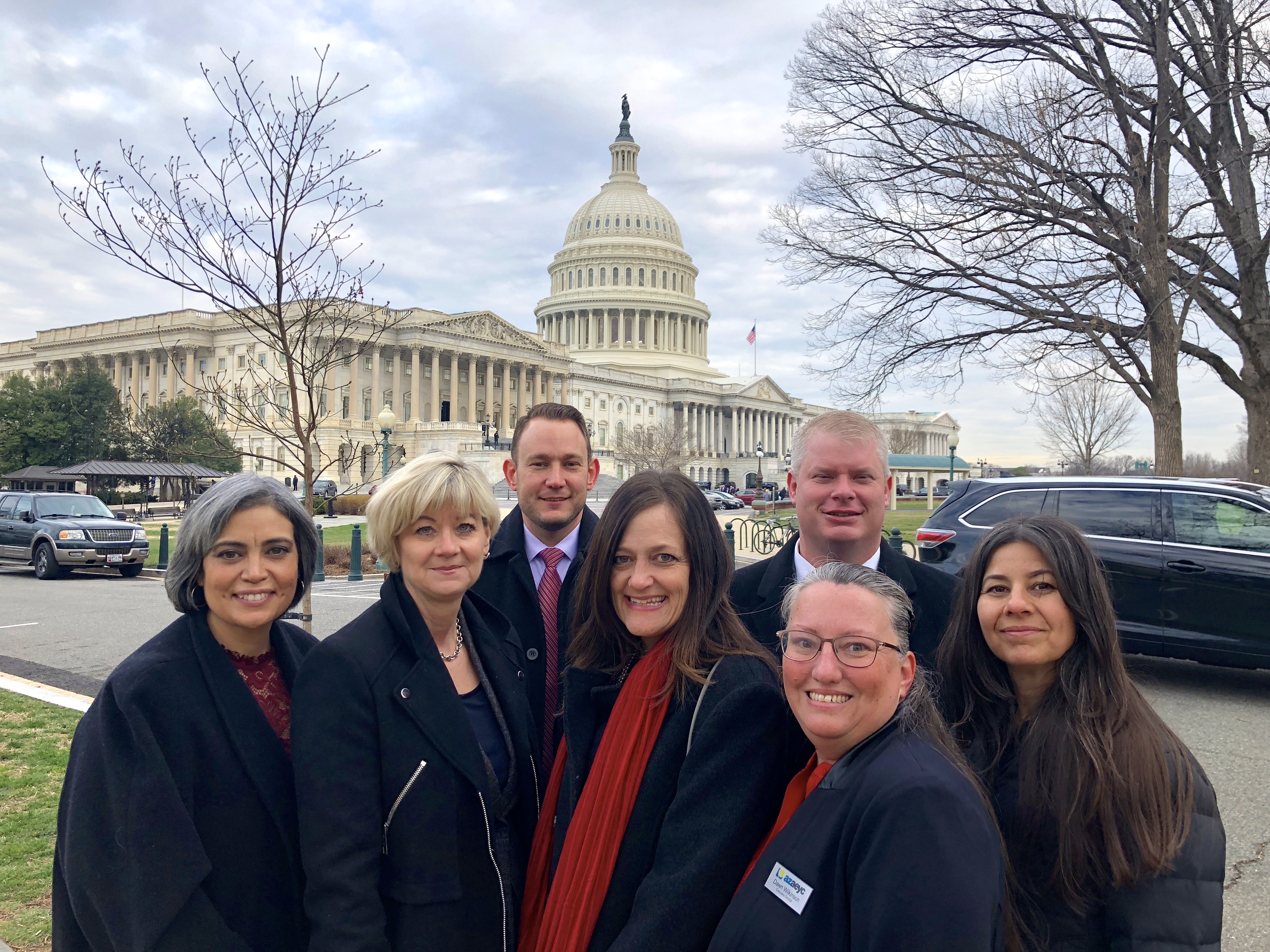 Group photo in front of the U.S. Capitol on a brisk March day.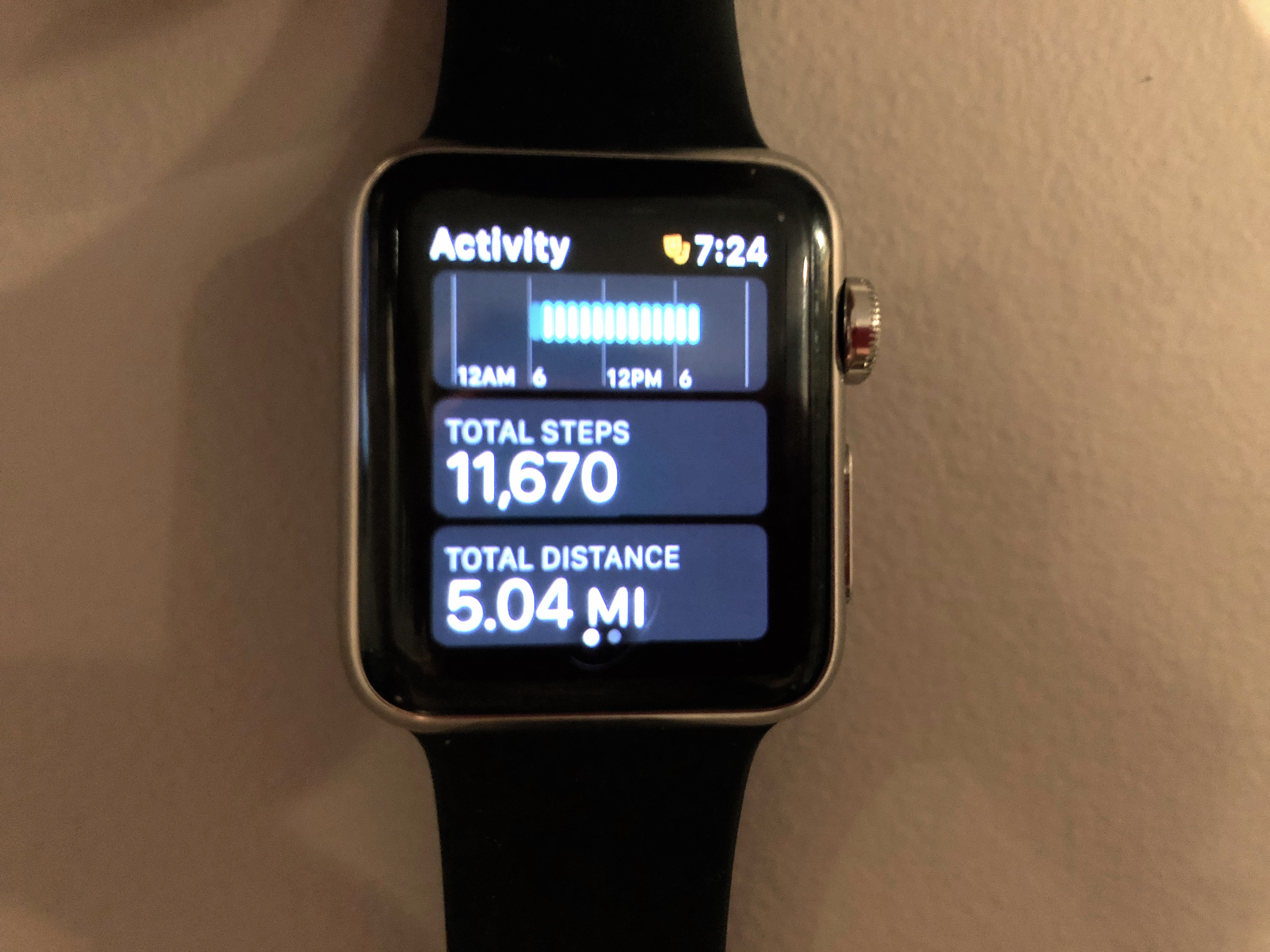 And the step count final tally!
We look forward to continuing to strengthen relationships with our representatives in Congress this year.
Join us as we continue to advocate for our profession! Check out these 5 easy action steps for early childhood advocates. Learn more from Team Leader Ben Alteneder on why your voice really DOES matter.
Images © Copyright 2018 Arizona Association for the Education of Young Children. All Rights Reserved.