By Vicki Balint | July 26, 2019
2019 Cheryl Foster Award recipient Denna Reidhead earned an Associate of Applied Science in Early Childhood Education in May from Central Arizona College (CAC).
CAC's Director of Early Childhood Education Melissa Larson Busby described Reidhead as "compassionate, empathetic, and supportive of the families of the children she teaches." Busby is Past President of AzAEYC's governing board.
Reidhead served as a teacher's assistant at FUSD Partners Preschool and finished her second year working in a classroom for children with special needs. She is also a recipient of the First Things First College Scholarship.
The Cheryl Foster Award recognizes a graduating CAC student of ECE who shows a strong vision for the future of the early childhood profession.
A leader in early childhood education in Arizona, Foster has directed CAC's Early Childhood Education Professional Development Program. Her commitment to the field of higher education in Arizona and at a national level throughout the NAEYC community has been invaluable to students and professionals statewide.
"My years at CAC were very rewarding, says Foster, "and I couldn't ask for more than having some small part in the journeys of current and future leaders in our field. "I was incredibly moved and touched by the honor of having a Early Childhood Leadership award named after me."
Reidhead talks about the Cheryl Foster Award, the challenges she faced over the past year, why this graduation was especially meaningful to her family, and what's next in her early childhood education career.
What was the biggest challenge in accomplishing your goals over the course of your studies?
Juggling and prioritizing work, family, and school. When I began taking classes in the Fall of 2016, I started with three per semester, occasionally four, and two summer school classes each year. The flexibility of CAC's program allowed me to reduce my load to two classes when I began feeling overwhelmed by all the demands on my time. My CAC advisor, Melissa Busby, was a huge support over my three years at CAC. She was also emotionally encouraging, listening to my fears and concerns and talking through them with me.
What did you learn about yourself in the process?
I learned that I can do hard things. I learned just how important it is to notice and appreciate all the little things people do for you. And age? You're never too old to learn new things!
Talk about why these milestones were especially meaningful for your family.
At the awards ceremony, there were 4 generations! My mother and step-father, myself (and husband), as well as our daughter and two grandsons. My family has been more than supportive and helpful since I decided to go back to school. The grands were not feeling well so my mother and husband were the only ones to attend graduation. They have all expressed several times how proud they are of my accomplishments and determination by going back to school.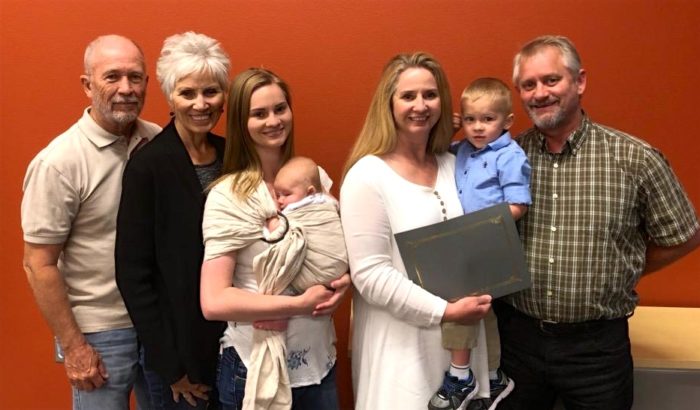 It felt really good to have finally reached a landmark in the journey, to feel like I finally earned that pride. I didn't walk in my high school graduation for several reasons, one being that I was working. CAC's graduation might be the only time I will walk for a graduation. I was super excited! I felt a little like Miss America walking across the stage with cameras flashing. It was a little bit of a high.
As the Cheryl Foster awardee, describe how you found out, what it was like to receive the news, and what the award means to you.
I found out about being the awardee a little early and informally at the Education Department Grad party. A couple of different professors congratulated me on the award. I got a letter about a week later from the school president officially informing me and inviting me to the awards ceremony.
I was very honored by that comment. I really valued the communication from each of them over the course of my studies. I was so grateful that my work was recognized and a sense of validation for the time and effort spent on school work.
What's your favorite NAEYC member benefit ?
I love that NAEYC constantly supplies information and opportunities to learn more about ECE, children, and family support and involvement.
What's next for you in your education and in your career?
I have been working for Florence Unified School District in their early intervention program for two years and will continue there. I have enrolled in Western New Mexico University's ECE program to obtain a bachelor's degree. I also plan to stay there for a master's degree in Special Education.