By Eric Bucher, Christie Colunga, and Marjorie Ruiz | April 10, 2019
What might happen if we offered children the opportunity to study the natural world by exploring art materials?
In celebration of the Week of the Young Child™ and specifically "Artsy Thursday," we wanted to find answers. As Board President of AzAEYC, Eric reached out to Christie Colunga, faculty member at Paradise Valley Community College.
Christie works closely with teachers in the field through the Collaborative Educators Institute (CEI), a professional development program funded by the First Things First Phoenix North Regional Partnership Council and administered by the College Center for Early Childhood Education at Paradise Valley Community College.
As a Pre-K teacher at the Deer Valley Unified School District, Marjorie Ruiz's work with children in exploring art and the natural world was inspired by her participation in CEI.
The Provocation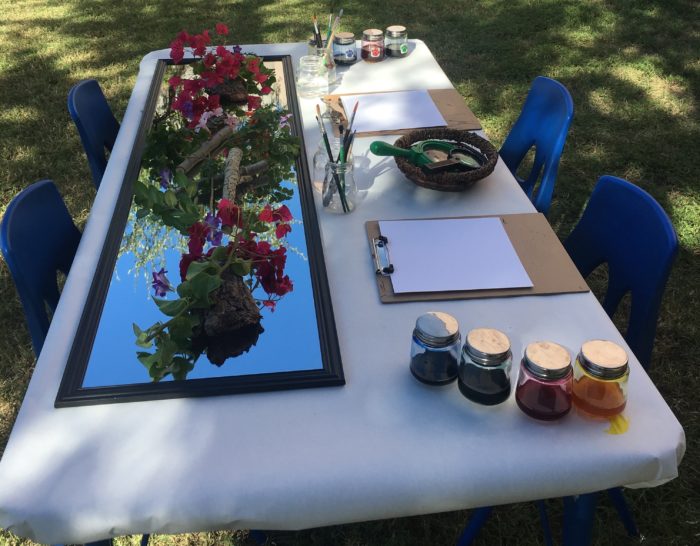 Marjorie decided to explore this question with a learning invitation to her students – also known by educators as a provocation. She gathered artist-quality Dick Blick liquid watercolors, Sharpies, watercolor paper, mirrors, and magnifying lenses. She arranged natural materials from the Arizona desert on a horizontal mirror. She placed the array of items on a table outside of her classroom.
Four-year-olds Mark and Alexa investigated these items from the natural world, perhaps noticing details and building a relationship with the flowers, stems, and leaves.
Marjorie invited the children to draw what they observed and then use watercolors to capture the details. She documented the process with photographs and by writing anecdotal notes of their conversations.
This documentation helped Marjorie capture what children said and did during the experience of exploring art and the natural world, highlighting their ability to express their thinking, theories, ideas, learning, and emotions through art materials.
The Conversation
Mark: "I'm putting the red and blue colors together. This one the yellow makes orange when you mix with red."
Alexa: "WOW! Blue and green makes turquoise a different blue. I'm going to mix some colors. When you paint you kind of stay in the line but I don't mind if it goes out, I like it. This is so cool! I love doing this outside."
Mark: "Me too! I feel good outside because I can hear the kids playing on the playground and the birds."
Alexa: "I hear them too but it's also nice under the tree."
Mark: "I made brown!"
Alexa: "How?"
Mark: "Not sure but I think it was yellow, green and maybe red. It got kind of brown. The tree looks like a flying tree because it has wings."
Marjorie: "What do you mean the tree has wings?"
Mark: "The branches spread out like this (he spread his arms out) this is cool, I'm making grass. I'm finished!"
Reflections
"As a teacher, watching the process and documenting their conversation is a window into the world of a child that opens opportunities," said Marjorie. "This experience brought a sense of wonder and exploration. Most important was the role that the environment played. Sometimes, as teachers, we need to push ourselves and try new things that go beyond our classroom walls."
This year, CEI participants interacted with a wide range of painting materials and environments. Inspired by children's encounters with paint, participants developed their own interpretations of the properties, functions, and possibilities of painting materials through hands-on experiences.
There was a focus on the important role documentation (photographs, video recordings, written observations, children's works and words) played in interpreting the encounters and interactions between paint and children.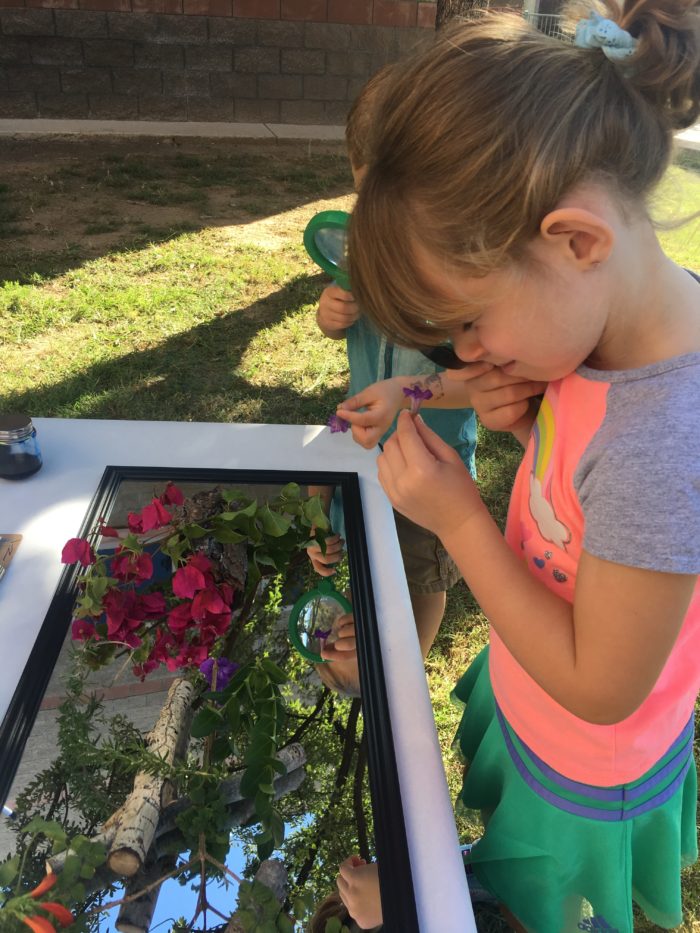 NAEYC's Artsy Thursday celebrates how intentional art provocations – like the one Marjorie offered – support children to make choices, use their imaginations, and create with their hands, hearts, and minds. Marjorie's provocation highlights the important role of early childhood educators to explore thoughtful ways to offer children art experiences and to reflect on their own teaching and learning.
Eric Bucher, MEd is the President of the Governing Board of AzAEYC and a doctoral candidate studying job-embedded early childhood science professional development with Early Head Start teachers. He also serves as Part-Time ECE Faculty at Paradise Valley Community College, an NAEYC-accredited A.A.S. program.
Christie Colunga, MEd, is a Residential Early Childhood Education faculty member at Paradise Valley Community College in Phoenix, Arizona. In addition to teaching Early Childhood Education coursework and academic program oversight, she develops career enhancing professional development for members of the local early childhood community.
Marjorie Ruiz is an Early Childhood Educator assistant and collaborator at the Deer Valley Unified School District in Phoenix and an active participant in CEI. She holds a BA degree in Industrial Management from the University of Puerto Rico, a Certificate of Completion in Early Childhood Education from PVCC, a CDA credential, and is currently working towards her Associates Degree in ECE at PVCC.