By Amber Jones | January 24, 2018
While I have long considered myself an advocate for quality early childhood programs, my advocacy efforts took new shape on a national level as I became the Child Care Aware® Parent Advocate representing Arizona at Child Care Aware® of America's Parent Advocacy Summit in April of 2017. 
I responded to a call for applications during February, 2017, by Child Care Aware® of America. They sought parents from across the country willing to share their story of struggle with child care policy in our country. Child Care Aware® Parent Advocates were selected to participate fly to Washington, D.C. and attend the Parent Advocacy Summit held in conjunction with the annual Child Care Aware® of America's Public Policy Symposium.  
During the Summit, attendees learn about current national policy and the history of funding for children and families in America. They receive training on how to talk to legislators and learn how to effectively share personal stories. Child Care Aware® Parent Advocates learn about what congressional "asks" to push for in order to move meaningful policies for children and families forward.
Why I applied
I wanted legislators to know the personal struggle my own family faces in attempts to find high quality care for our two children. I wanted legislators to understand the financial burden families face in paying for quality care. I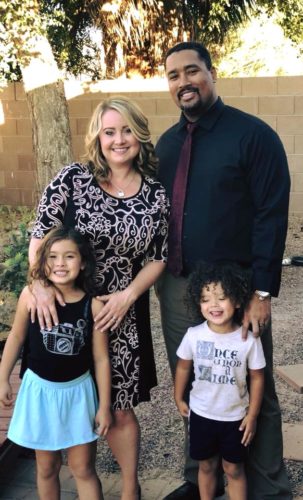 wanted them to learn that I pay $1300 a month for part time care for my two children so that I can continue to work part time and pursue a graduate degree. I wanted them to know that I drive 42 miles roundtrip (84 total) each day so that my children can attend a high quality preschool.  And, I wanted them to realize that my family is not alone in this struggle.  
I consider myself fortunate to have built a career that allows me to work from home a majority of the time and to have a husband with a steady job and strong desire to be present and engaged with our children. Both my husband and I juggle our careers, volunteer efforts in our community, my pursuit of a Master's Degree, children's events and birthday parties, and the everyday chores that come with running a home with two young children in it. We find ways to make ends meet by working most evenings when our children are sleeping so that we can afford the part time care they receive. 
We know the incredible benefits our children are receiving by attending a high quality preschool. Research findings are clear: children who have an optimal preschool experience are far more likely to be ready to learn when they reach kindergarten. And it doesn't stop at kindergarten. Study after study shows that children who attend a quality preschool program are more likely to experience enduring achievements over the long term. 
It's crucial for legislators to hear from moms like me and dads like my husband, Travis. And it's also important for them to know that my story is just one of thousands. So many families across this county find themselves in crisis as they seek high quality care they can afford. 
Off to Washington, DC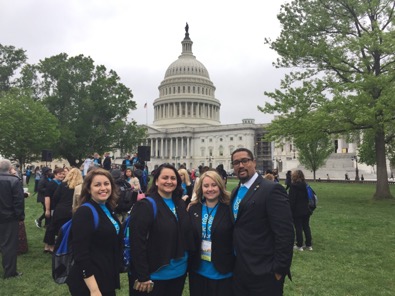 As Travis and I left for DC to be Child Care Aware® Parent Advocates on behalf of families in Arizona, we couldn't help but feel a bit intimidated and anxious about this huge responsibility. Once we arrived, our agenda was jam-packed with break out sessions and discussions. I found the sessions to be very informative and empowering! I learned so much about myself and the power of my voice, the urgent need to speak up for children and families, and the continued need to advocate for early childhood teachers and our profession. 
The courage of other parents we met who openly shared their stories of devastation and loss they experience daily — as a result of their children dying in childcare —  was gut-wrenching and powerful. I will never forget these stories. These stories made it clearer than ever that we must do something NOW to support access and affordability for high quality early childhood programs. 
I will forever be grateful for the support given to us by Child Care Aware® of America. They inspired both Travis and I to gain the courage to speak in the offices of Arizona Senators John McCain and Jeff Flake, and Representatives Martha McSally, and Tom O'Halleran and provided us the platform to stand tall, loud, and proud on behalf of all children. It was incredible. 
Now, it's your turn!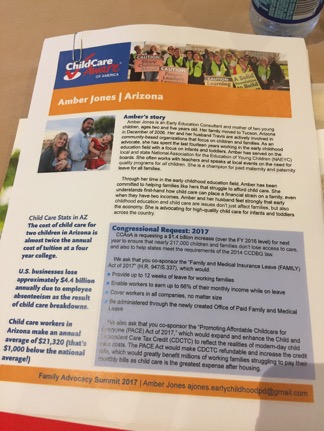 It's critical for the future of Arizona that we raise our voices on behalf of children. The time is now! No longer should we accept that our state allows two adults to care for eleven babies. Nor should we allow two adults to care for thirteen one-year olds. This must stop. We cannot continue to allow our precious children — and they are truly our future — to miss out on the opportunity for high quality early childhood experiences.
So this is my call to action to other parents of young children in Arizona! The Child Care Aware® of America's 2018 Symposium will be held from Tuesday, April 17th, to Friday, April 20th in Washington, DC. As a part of the 2018 Symposium, Child Care Works, powered by Child Care Aware® of America, and they are seeking family advocates to join the 2018 Symposium Conference and participate in the annual Day on the Hill just as Travis and I did. I hope will be join me in submitting an application so that we make sure Arizona voices are heard on Capitol Hill this April 2018!
If you are a parent, please consider being a voice! Your story is important, and likely represents countless families who struggle to find high quality, affordable early childhood programs for their children each year. The application deadline to become a Child Care Aware® Parent Advocate is February 2, 2018. Apply now!
Amber Jones is an early education consultant who presents locally and nationally on Systems Thinking in early childhood and infant/toddler care and development. She is a First Things First Pima North Regional Partnership Council member and a former AzAEYC and SAzAEYC Board member. Amber and her husband, Travis Jones, are the parents of Genevieve, 5, and Weston, 3.