The NAEYC Public Policy Forum Team Arizona attends this conference annually. State Team Leaders work to place attendees in state teams.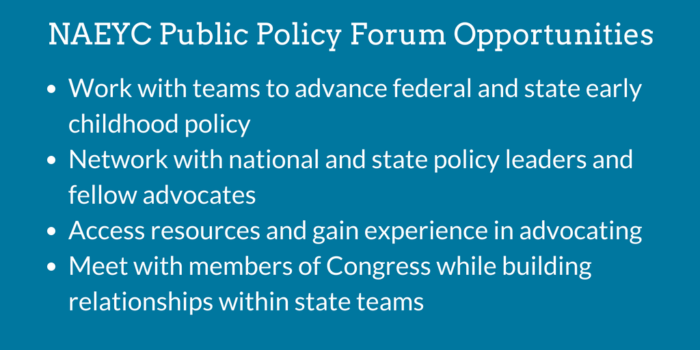 The Forum is one of the many benefits of membership. AzAEYC is honored to connect with this professional network of early childhood educators from across the country.
Save the Date: NAEYC Public Policy Forum 2019
Sunday, February 24 – Tuesday, February 26, 2019 | Washington, DC
Join early childhood colleagues from across the country, new and experienced, in becoming more informed, engaged, connected, and effective. The Public Policy Forum is a members-only function open to current NAEYC members who are chosen by a designated State Team Leader.
Early childhood professionals understand the importance of quality early childhood education programs and the lasting impact that a good start in life provides for all young children. Learn more about policy and become an advocate!
NAEYC Public Policy Forum Team Arizona in Action!
Want to see our Arizona Team in action at the NAEYC Public Policy Forum 2018? Browse our photo essay.
Ready to advocate right now? Five ways you can get started today.
Learn more