In partnership with Arizona State University College of Health Solutions and other community partners, AzAEYC is excited to announce the launch of the first Arizona Early Childhood ECHO (Extending Community Health Outcomes) professional development sessions! 
What's the topic?
Business Practices for Early Care and Education: Working through COVID and Beyond 
When are sessions held?
Virtually on Wednesday evenings
July 8 through August 19, 2020
6:00 pm – 7:30 pm
What are these sessions about?
This timely, free, 7-week interactive online course is suggested for childcare owners, directors, and administrators.
Explore foundational business practices such as budgeting, understanding expenses and revenue, and advocating effectively as an ECE professional. These sessions will use AZToolkit resources and tools to support the business side of child care.
About the ECHO PD Model
Our Early Childhood ECHO PD is intended to increase the capacity of early childhood professionals by providing equitable access to high quality evidenced based training opportunities throughout Arizona.
Project ECHO© is an innovative virtual model led by expert teams that use multi-point video conferencing to conduct virtual learning sessions about evidence-based practices in early childhood programs and services. ECHO provides group learning and sharing and is designed as an all teach, all learn event. 
ECHO is provided free of charge. Participants earn continuing education credits.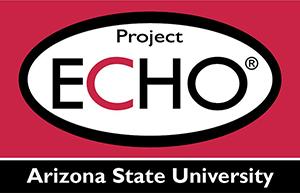 Our Arizona ECHO PD Partners
Arizona State University, College of Health Solutions
Arizona Department of Education
Arizona State Schools for the Deaf and Blind
Catholic Charities West Side Head Start