Congratulations to all Arizona ECE Graduates!
May 25, 2018 12:31 am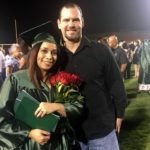 Meet some of the 2018 ECE Graduates around the state of Arizona! A few new grads from Central Arizona College, Mesa Community College and Pioneer Northland College weigh in on what drew them to the field of early childhood education, how they met the challenges of earning a degree, and what the future holds. Allison Landy, EdD, Early Childhood Department Chair of Northland Pioneer College, shares her perspective on the ECE graduation experience. Learn more.