March 19, 2020
To help keep families and childcare programs economically stable and healthy through this challenging time, Arizona MUST provide additional state funding investments and clear childcare guidance to respond to the realities and needs of families, childcare providers, and staff.
AzAEYC, along with the following community partners, have requested clear guidance and action from the Governor's Office, Arizona Department of Health Services, and the Arizona Legislature for licensed childcare centers and family childcare programs regarding emergency funding and policies that can help providers and the families they serve to remain financially stable during and after the ongoing COVID-19 crisis.
Arizona Association for the Education of Young Children (AzAEYC)
Arizona Early Childhood Alliance (AZECA), an alliance of 40 cross-sector early childhood, business, and community partners statewide
Arizona Early Childhood Education Association (AECEA)
Arizona Head Start Association (AZHSA)
Child & Family Resources, Inc. (C&FR)
Children's Action Alliance (CAA)
Southern Arizona Association for the Education of Young Children (SAZAEYC)
United Way of Tucson and Southern Arizona
UPDATE
The National Association for the Education
of Young Children (NAEYC)
asked child care programs across states to better understand what they face during the impacts of COVID-19. Read the entire NAEYC report.
Below are the results from child care providers in Arizona who responded to the survey.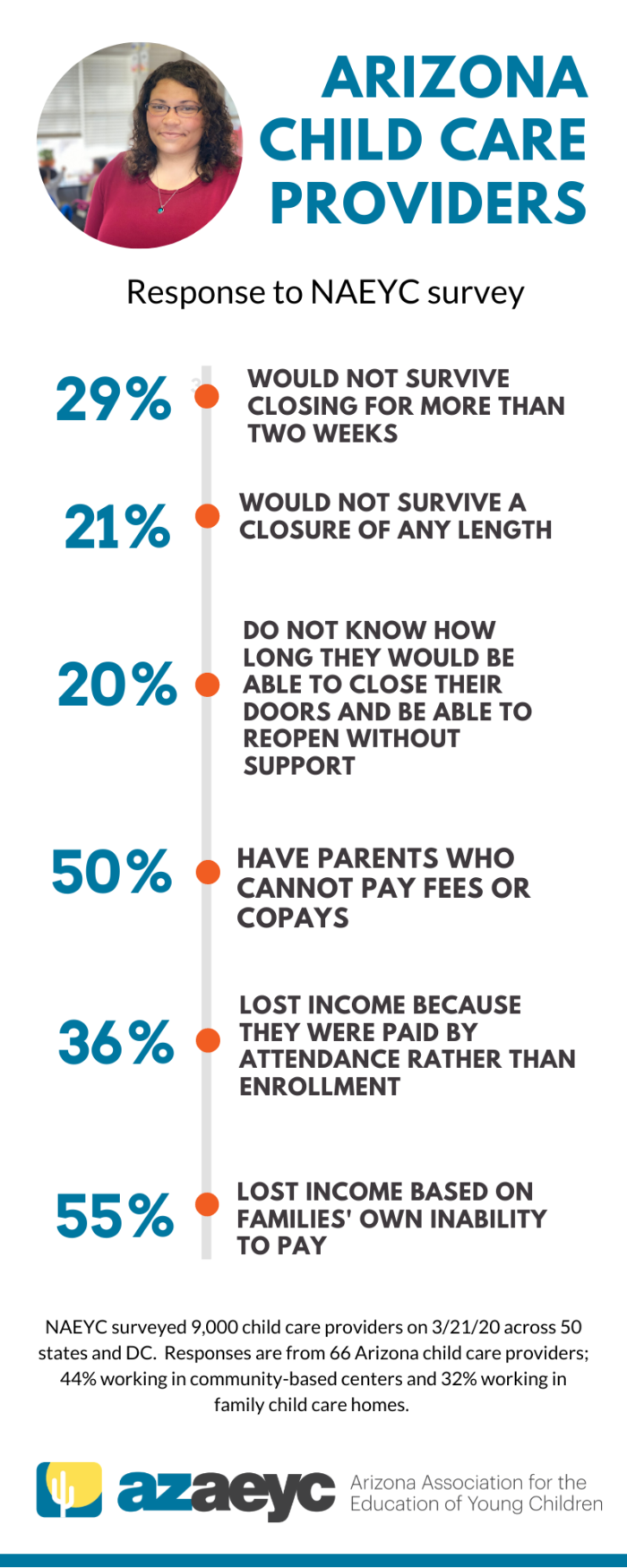 Contact:
Dr. Eric Bucher
Executive Director
Arizona Association for the Education of Young Children ebucher@azaeyc.org
Media Inquiries:
Vicki Balint
Media and Communications Specialist
Arizona Association for the Education of Young Children vbalint@azaeyc.org