By Vicki Balint | July 26, 2019
Last year's Rhian Evans Allvin and Joshua J. Allen 2018 Scholarship awardee M. Esmeralda Carrillo has been busy! She talks about family adventures in Mexico, applying early ed knowledge to real life situations, and shares a few tips for 2019 scholarship applicants.
How was your summer?
This was the first summer in 3 years that I did not take any college classes. I made that decision because I wanted to dedicate this summer to my own children. We took our first family trip together, which was phenomenal! We went to Guadalajara and Los Cabos. It was long and tiring, but great!
Any particular experiences to share that enriched your commitment to ECE?
I think that sometimes as early educators, everything we learn we sometimes forget to apply to our own children. I've been trying to use everything I've been learning! Here's an example: in Cabo, everyone eats seafood. But my daughter is a picky eater and she's all about McDonald's! She's never even had a strawberry. A strawberry!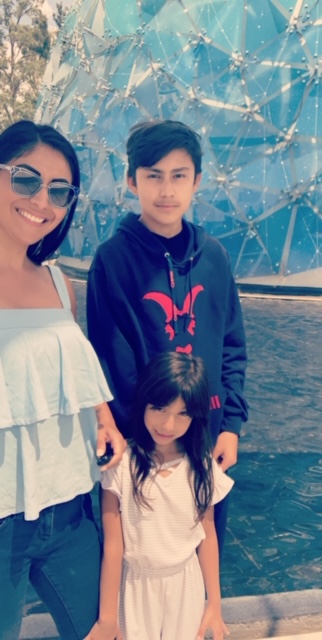 We were at a seafood restaurant and there wasn't anything on the menu she wanted. I told her, try a little rice, just try it — and on the way back to the hotel, we will find you something else. A hungry child is not a happy child! I wasn't forcing her — simply encouraging her to eat just a little bit of rice.
It worked out, she ate the rice, she loved it. On the way back, we found McDonald's and her chicken and fries. That early ed article I read about working with picky eaters really helped me out.
What's your plan for the coming year with work and further education?
My plan is to take a few more classes and continue to focus on infants and toddlers. I used to work in the three to four year-olds class and last year I was moved to an 18 months to 2 year-olds class. I am finished with ECE credits and with a couple more general ed credits, I will earn my associate degree. I'm working now to get my certificate in infant-toddler studies and my associate degree in early childhood education.
What preceded your early ed career?
I worked in hospitality/hotels/food and beverage for 15 years. I ran an entire department, training, helping employees grow in their careers. There was overlap with that and my ECE work — some adults do behave like children [laughter]. It was a challenging transition but not a hard one. I'd never saw myself working in early education. But I have made it my career.
Talk about how you felt about receiving the Rhian Evans Allvin and Joshua J. Allen Scholarship.
Receiving that scholarship confirmed my feelings that I am doing something really good. People that work in early childhood education, we do it because we love it, we have a passion for it, the heart for it and the patience for it. It's a job not many can do. Just receiving that award really validated that I am where I am supposed to be.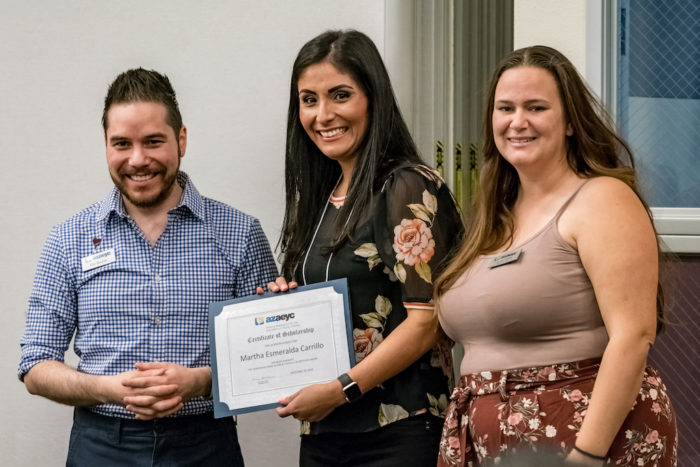 How did recognition by AzAEYC benefit/affect/influence your work this year?
Coming from AzAEYC, it is such a great recognition. As a single parent, the money helped me to breathe. I felt that I'd just won this amazing award, and I can use this money for continuing. My coworkers were aware of the award. They began asking me questions, I felt they saw me as a valued resource. I was honored!
Also, they knew I was studying with an NAEYC accredited college, and they respected that. Receiving the award also helped the parents to feel even more comfortable in leaving the children in my care.
Any updates on what you've learned this past year about continuing to advocate for young children?
I've definitely learned a lot from my 18 month-olds. I am a voice for them. When I see in their development that they might not be where they should be, I carefully work with their parents.
What would you say to potential 2019 scholarship applicants? Any tips?
Go for it! For me, it took a long time to step out of my comfort zone. That's why I never applied for certain things or asked certain questions. Be honest, show yourself in that essay!
A favorite quote of mine is "You will miss 100% of the shots you don't take." I didn't think I was going to win, but if I didn't apply, I realized was definitely not going to get the award!
What's a long term goal for you?
My ultimate goal is to continue my education toward an associate degree in Early Childhood Education at Paradise Valley Community College, continue to teach at the International School of Arizona in Scottsdale, and then eventually specialize in early childhood special education. We're looking forward to a great year!
AzAEYC is now accepting applications for the Rhian Evans Allvin and Joshua J. Allen 2019 Scholarship. Apply now!